National Assembly of the Republic of Serbia / National Assembly / Composition / Deputy Speakers / Stefan Krkobabic
Stefan Krkobabic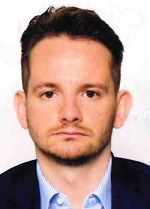 Photo gallery
STEFAN
KRKOBABIC
Electoral List
ALEKSANDAR VUCIC – FOR OUR CHILDREN.
Parliamentary group
PUPS -"Three P's" Parliamentary Group
Political party
Party Of United Pensioners Of Serbia (PUPS)
Date of Verification of MP's Mandate
03.08.2020.
Year of Birth
1989.
Occupation
Bachelor of Public Relations Management
Function in the National Assembly of the Republic of Serbia
National Assembly Deputy Speaker
Committee membership
Delegation membership
Friendship group membership
Residence
Belgrade
---
Biography
Date of birth: 23 February 1989
Place of birth: Belgrade, Serbia
Education:
- "Crnjanski" Grammar School
- Faculty of Culture and Media, Megatrend University

(degree: graduate public relations manager)
Foreign languages: English; Spanish

Professional and work experience:

During his studies, with a group of young and promising like-minded people he formed the Association of Citizens "Civil Rights and Freedoms" which aims to promote civil rights and freedoms.

He began his professional and work engagement in 2012 as the Head of the newly formed Sector for Economic Policy and Development at the Center for Economic Policy, Restructuring and Development of the Belgrade Chamber of Commerce.

Following the remarkable results he achieved as the Head of the Sector, at a session of the Managing Board of the Belgrade Chamber of Commerce, in March 2013, he was appointed Secretary of the Center for Development of Small and Medium-Sized Enterprises and Entrepreneurship. He made a special contribution to the further promotion of economy in the City of Belgrade with a special emphasis on and cooperation with the Association of Entrepreneurs.

In 2015, by the decision of the businessmen of the City of Belgrade, he was elected the youngest Vice-President of the Belgrade Chamber of Commerce in the history of the chamber system of the Republic of Serbia, at the age of 26 and with special responsibilities in the field of social entrepreneurship.

After the consolidation of the chamber system in the Republic of Serbia in January 2017, he was appointed Deputy Director of the Belgrade Chamber of Commerce - Serbian Chamber of Commerce, where he will remain until September 2018.

After six successful years spent in the chamber system of Serbia, he founded a company that launched a modern media-information internet platform aimed at providing a quick and efficient access to information to the citizens of the Republic of Serbia.

At the session of the Government of the Republic of Serbia held on 30 May 2019 he was elected acting director of the Public company for the development of mountain tourism "Stara Planina", Knjazevac, by the Government of Serbia, where in almost 18 months of his term he managed to modernize and contribute to the development of the Public company with the aim of promoting mountain tourism in the area of "Jabucko ravniste" tourist complex on Stara Planina.

After the last parliamentary elections held on 21 June 2020, he was elected Member of Parliament in the 12th legislature of the National Assembly of the Republic of Serbia from the "Aleksandar Vucic – For Our Children" Electoral List.


monday, 27 june
No announcements for selected date