National Assembly of the Republic of Serbia / Activities / National Assembly / Working Bodies / Public Hearings
Committees may organise public hearings for the purpose of obtaining information, or professional opinions on proposed acts which are in the parliamentary procedure, clarification of certain provisions from an existing or proposed act, clarification of issues of importance for preparing the proposals of acts or other issues within the competences of the committee, as well as for the purpose of monitoring the implementation and application of legislation, i.e., realisation of the oversight function of the National Assembly. The procedure for organising public hearings is regulated by the National Assembly Rules of Procedure.
National Assembly
Rules of Procedure, a
rticle
s
8
3 and 8
4
Public Hearings - reports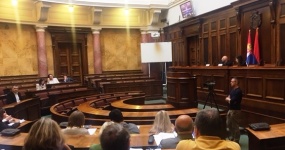 Wednesday, 30 November 2016 |
The National Assembly House hosted the third public hearing organised by the Environmental Protection Committee with the topic "Systemic solutions for the environment – Serbia 2017-2027, defining water management problems".
Tuesday, 22 November 2016

Monday, 14 November 2016

Tuesday, 1 November 2016