National Assembly of the Republic of Serbia / National Assembly / Composition / Deputy Speakers / prof. dr Vladimir Marinkovic
prof. dr Vladimir Marinkovic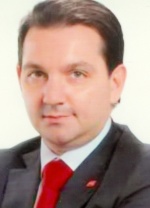 Photo gallery
VLADIMIR Prof. Dr
MARINKOVIC
Electoral List
ALEKSANDAR VUCIC - FUTURE WE BELIEVE IN (Serbian Progressive party, Social Democratic Party of Serbia, New Serbia, Serbian Renewal Movement, Socialist Movement)
Parliamentary group
Social Democratic Party of Serbia Parliamentary Group
Political party
Social Democratic Party of Serbia (SDPS)
Date of Verification of MP's Mandate
16.04.2014.
Year of Birth
1976.
Occupation
university professor
Function in the National Assembly of the Republic of Serbia
National Assembly Deputy Speaker
Committee membership
Friendship group membership
Residence
Belgrade, Vozdovac
Other
MP opened a constituency office
---
Biography
Prof. Dr Vladimir Marinkovic, Chairman of the Economy Board and member of the presidium of the Social Democratic Party of Serbia, associate professor at Megatrend University, associate professor at the Independent University of Banja Luka. Also holds post of research fellow at the Institute of Agricultural Economics in Belgrade.
Author of a university textbook, four monographs and more than 100 scientific and expert papers in relevant domestic and foreign journals on economy, management and entrepreneurship.
Visiting lecturer at Pomezia University in Rome.
Winner of the prestigious award - Plaque for contributions to trade-unionism in Europe awarded by the European Police Union and Man of the Year award for political idea awarded by the journal The Man.
Chairman of the Oversight Committee of the Association of Economists of Belgrade and member of the International Labour and Employment Relations Association (ILERA) from Geneva.
Vice-Chairman of the Green Serbia Chamber of Commerce and member of the Executive Board of the Regional Network of Parliamentary Committees on Economy, Finance and European Integration of Western Balkans.

Was Secretary General of the Association of Industrialists and Entrepreneurs of Serbia and Montenegro, deputy director of the Institute for the Development of Small and Medium-Sized Enterprises and headmaster of the High Vocational School of Entrepreneurship.

Since May 2012, MP at the National Assembly of the Republic of Serbia and member of the Committee on Spatial Planning, Transport, Infrastructure and Telecommunications and deputy member of the Committee on Finance, State Budget and Control of Public Spending.

| M | T | W | T | F | S | S |
| --- | --- | --- | --- | --- | --- | --- |
| 25 | 26 | 27 | 28 | 29 | 30 | 1 |
| 2 | 3 | 4 | 5 | 6 | 7 | 8 |
| 9 | 10 | 11 | 12 | 13 | 14 | 15 |
| 16 | 17 | 18 | 19 | 20 | 21 | 22 |
| 23 | 24 | 25 | 26 | 27 | 28 | 29 |
| 30 | 31 | 1 | 2 | 3 | 4 | 5 |
Wednesday, 25 May
No announcements for selected date