National Assembly of the Republic of Serbia / Activities / Activity details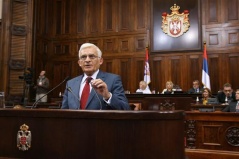 Thursday, 3 November 2011
Seventh Special Sitting of the National Assembly of the Republic of Serbia in 2011
The Speaker of the National Assembly, Prof. Dr Slavica Djukic-Dejanovic convened the Seventh Special Sitting of the National Assembly of the Republic of Serbia in 2011, for Thursday, 3 November 2011, starting at 11 a.m.
---
For the sitting, the National Assembly Speaker set the following agenda:
1. Address of the President of the European Parliament, Prof. Jerzy Buzek, to the National Assembly.
At the beginning of the sitting, National Assembly Speaker Prof. Dr Slavica Djukic-Dejanovic greeted the Head of the Delegation of the European Union to Serbia Vincent Degert and the representatives of the diplomatic corps attending the sitting.
Addressing the National Assembly, the President of the European Parliament Jerzy Buzek commended the European Commission's recommendation to grant Serbia EU candidacy status. He stressed that in the last years Serbia has decisively confirmed its European commitment and its citizens have voted for a European future, i.e. future together. The judiciary reform has been continued, there has been progress in the struggle against corruption and organised crime and in strengthening the rule of law, although there is more difficult work ahead in all fields. Serbia has concluded its cooperation with The Hague Tribunal and achieved progress in establishing and strengthening reconciliation in the region.
Buzek said that numerous measures were implemented in the field of economy to maintain macroeconomic stability.
The European Parliament President stressed that Serbia, as part of Europe was very close to gaining candidacy status and launching negotiations for European Union membership. Serbia has a future and it can be the leader of the region because the enlargement process cannot be complete without the entire Western Balkans joining the European Union.
Beginning to normalise relations with Pristina is the key to Serbia's European integration, which is not easy, said the European Parliament President. Speaking about the dialogue between Belgrade and Pristina, under the patronage of the EU, Buzek said that the talks have been constructive but that the agreements need to be implemented and the dialogue continued.
Jerzy Buzek stressed that all the sides should help mitigate the tensions in the north of Kosovo and ensure long-term solutions for peace and stability, free movement of people and goods which is in the interest of all citizens. He shared his belief that Serbia would positively contribute to addressing this issue.
The European Parliament President expressed readiness to assist Serbia on the road to European integration restating that additional efforts should be invested into normalising relations with Pristina.
Following the address of the European Parliament President Jerzy Buzek, National Assembly Speaker Slavica Djukic-Dejanovic concluded the Seventh Special Sitting of the National Assembly of the Republic of Serbia in 2011.
---
---
friday, 12 august
No announcements for selected date