National Assembly of the Republic of Serbia / National Assembly / Composition / Members of Parliament / MP
MP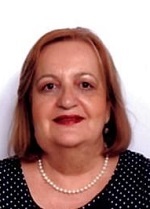 VJERICA
RADETA
Year of Birth
1955.
Occupation
Bachelor of Laws
Function in the National Assembly of the Republic of Serbia
National Assembly Deputy Speaker
Residence
Zemun
---
Biography
Vjerica Radeta was born on 15 October 1955 in Livno. Graduated from the Faculty of Law, University of Sarajevo. Performed the office of head and secretary in the Municipality of Zemun and DeputyMinister of Justice.Elected MP from the electoral list of the Serbian Radical Party on three separate occasions. Member of the Dr Vojislav Seselj Defence Team.

Vjerica Radeta is member of the Central Fatherland Administration and the Presidential Collegium of the Serbian Radical Party. President of the Executive Board.


Not active
sunday, 7 march
No announcements for selected date