National Assembly of the Republic of Serbia / Activities / Activity details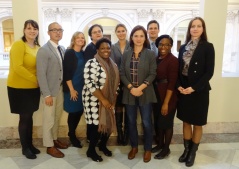 20 October 2015 The members of the Women's Parliamentary Network and the recipients of the Marshall Memorial Fellowship
Tuesday, 20 October 2015
Women's Parliamentary Network Members Talk to Marshall Memorial Fellowship Recipients
The members of the Women's Parliamentary Network met today with a group of attendees of the US Marshall Memorial Fellowship exchange programme.
---
Network member Vesna Marjanovic said that this has been the third time representatives of the National Assembly had the opportunity to talk to recipients of the Marshall Memorial Fellowship. She underlined the importance the programme has for the MPs since, among other things, it had been set up in memory of the Marshall Plan which had significantly contributed to the development of Europe and former Yugoslavia after WWII.

Network member Gordana Comic opined that though there are many differences between Serbia and the US, they do share one similarity and that is their treatment of women in politics who are often insufficiently represented and discriminated against, often more educated yet less paid than their male counterparts. Comic stressed that the cooperation between Serbia and the US is necessary to promote dialogue between men and women in society with the aim of reducing inequality and bias.

Network member Aleksandra Jerkov opined that upbringing also has a hand in the status of women in politics and society as some textbooks, the media and society in general depict the woman in a traditional family as a housewife.

Speaking of the work of the Women's Parliamentary Network, coordinator Vera Paunovic stressed that it comprises 84 women MPs. Paunovic believes the participation of women in the National Assembly to be significant since women make up one third of MPs in it. She announced that the Women's Parliamentary Network would be organising a regional conference on 3 November to which it is to invite 200 women councillors and broach a new subject – gender budgeting. The coordinator of the Women's Parliamentary Network said it was important to encourage women to take part in political and social life at the local level. Paunovic said the Network members stand united despite their political affiliation and drew attention to the significant support the Network has garnered among civil society organisations.

Network member Sabina Dazdarevic said she was very pleased by the visit of the US scholarship recipients saying she herself had the pleasure to be part of the Marshall Memorial Fellowship project. Speaking about the participation of women in politics, she emphasised the significance of the fact that 30% of the MPs are women, which is a best practice example that should be espoused by the other institutions.

In the course of the discussion, the MPs and Marshall Memorial Fellowship recipients exchanged experiences and views on the status of women in Serbia and the US.


---
---
wednesday, 15 july
13.00 - press conference of MPs Sasa Radulovic, Branka Stamenkovic and Vojin Biljic (National Assembly House, 13 Nikola Pasic Square, Central Hall)