National Assembly of the Republic of Serbia / Activities / Activity details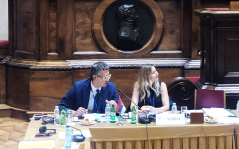 23 September 2019 MPs Mladen Grujic and Dr Aleksandra Jerkov at the meeting of the Steering Committee of the Twelve Plus Group
Tuesday, 24 September 2019
Twelve Plus Group Steering Committee Meets in Lisbon
MP Mladen Grujic, member of the Inter-Parliamentary Union (IPU) Executive Committee, and Dr Aleksandra Jerkov, President of the IPU Committee on the Human Rights of Parliamentarians, members of the National Assembly standing delegation to IPU, took part in the meeting of the Steering Committee of the Twelve Plus Group.
---
At the meeting, held on 23 September in Lisbon, the Steering Committee ascertained the Group's positions and activity plan proposal for the coming IPU Assembly.
The 141st IPU Assembly will be hosted by the National Assembly, 13 – 17 October, in Belgrade. The IPU Assembly is expected to be attended by about 1500 delegates from around the world.
---
---
friday, 5 june
13.00 - press conference of MPs Sasa Radulovic, Branka Stamenkovic and Vojin Biljic (National Assembly House, 13 Nikola Pasic Square, Central Hall)