National Assembly of the Republic of Serbia / Activities / Activity details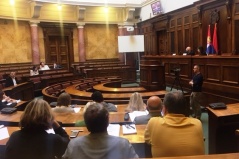 30 November 2016 Third public hearing on "Systemic solutions for the environment – Serbia 2017-2027, defining water management problems"
Wednesday, 30 November 2016
Third Public Hearing on "Systemic Solutions for the Environment – Serbia 2017-2027, Defining Water Management Problems"
The National Assembly House hosted the third public hearing organised by the Environmental Protection Committee with the topic "Systemic solutions for the environment – Serbia 2017-2027, defining water management problems".
---
Dr Branislav Blazic, Chairman of the Environmental Protection Committee, said that the objective of the gathering is to discuss the water management problems in the Republic of Serbia. Among other things he said that raising environmental awareness among the public on the need for protection, significance and conservation of water is crucial. He also said that just a fraction of waters is adequately filtered, adding that it is vital to attract foreign investments which would help improve the investment climate.

In the ensuing discussion the participants shared their suggestions about measures that should be employed to solve the water management problems. Among other things, they said that the existing regulations should be adequately implemented, accompanied by passing strategic plan documents, strengthening personnel capacities, as well as the institutional and organisational structure and ensuring better inter-sector cooperation. They focused on the need to draft projects based on which to apply for EU funds.

The attending agreed that there can be no good management of environmental sectors without inter-sector cooperation.

The Environmental Protection Committee Chairman thanked the attending for their participation and suggestions adding that they will receive information from the meeting, and announced that the next public hearing would be focusing on the proposals and solutions to the defined problems.

The public hearing was attended by Committee members, numerous NGOs and representatives of the relevant institutions.

The public hearing was organised with the support of the UNDP and the Swiss Agency for Development and Cooperation (SDC), via project Strengthening the Oversight Role and Transparency of the National Assembly of the Republic of Serbia – Phase Two.


---
Committees related to this activity
---
Video (1)
Wednesday, 30 November 2016 | javno slušanje: Sistemska rešenja u životnoj sredini - Srbija 2017 - 2027, definisanje problema u oblasti upravljanja vodama 30.11.2016.
---
---
thursday, 23 march
10.00 - press conference of the MPs of the GREEN – LEFT CLUB, DON'T LET BELGRADE D(R)OWN, WE HAVE TO Parliamentary Group (National Assembly House, 13 Nikola Pasic Square, Central Hall)

11.00 - sitting of the Defence and Internal Affairs Committee (National Assembly House, 13 Nikola Pasic Square, hall 2)

12.00 - the Chairman of the Committee on Finance, State Budget and Control of Public Spending meets with representatives of the World Bank (National Assembly House, 13 Nikola Pasic Square, hall 2)