National Assembly of the Republic of Serbia / Activities / Activity details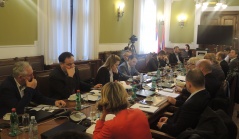 9 March 2015 Tenth Meeting of National Assembly Economic Caucus
Monday, 9 March 2015
Tenth Meeting of National Assembly Economic Caucus
At the tenth meeting, held on 9 March, the members of the Economic Caucus discussed the preparation of amendments to the Bill on Inspection which entered Assembly procedure on 3 March 2015.
---
Opening the meeting, the Head of the Economic Caucus, Prof. Dr Vladimir Marinkovic said that the proposed amendments aim to reduce the grey economy, improve the business conditions, change the inspection services' operation concept and control the work of unregistered business entities.
Representative of the USAID Program for better business conditions spoke of the key effects of the implementation of these amendments. He said that the adoption of said amendments would achieve coordination among the inspection services and their modernisation, better protection of entrepreneurs, citizens , property, people's health and the environment. The amendments focus on the pro-active work of inspections and on boosting oversight over the inspectors. He added that the deadline for the implementation of the law should be reduced from 12 to three months.
Economic Caucus member Zoran Babic suggested harmonising the Bill on Inspection with the Law on Protection of Whistleblowers, and Economic Caucus member Katarina Rakic suggested that inspection service managers should face criminal and not misdemeanour charges, if they do not comply with the law.
The meeting was attended by Caucus members MA Dejan Radenkovic, Prof. Dr Branko Djurovic and Aleksandar Senic, as well as representatives of NALED, IRI, USAID, LIBEK, the US Embassy and the US Chamber of Commerce.

The Head of the Economic Caucus, Prof. Dr Vladimir Marinkovic presided over the meeting.

---
---