National Assembly of the Republic of Serbia / Activities / Activity details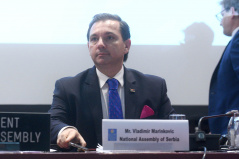 16 October 2019 National Assembly Deputy Speaker Prof. Dr Vladimir Marinkovic at the IPU General Debate
Wednesday, 16 October 2019
Strengthening International Law: Parliamentary Roles and Mechanisms, and the Contribution of Regional Cooperation – Segment for Young Parliamentarians
National Assembly Deputy Speaker and member of the IPU delegation Prof. Dr Vladimir Marinkovic took part in the IPU General Debate on strengthening international law: parliamentary roles and mechanisms, and the contribution of regional cooperation in the segment for young parliamentarians.
---
The Deputy Speaker said that peace and stability are being called into question on a daily basis by the mounting challenges and conflicted interests shaking the world. He reminded the attending that the motto of the founders of IPU was peace, dialogue and peaceful resolution of conflict in line with international law, a pledge the parliamentarians are duty-bound to keep today, 130 years later. "The instrument to do so is to strengthen the parliament as an institution that reflects the will of the people and is the key player in ensuring democracy, the operation of democratic institutions, well-being of the citizens and preservation of the rule of law at the national and international level", said Marinkovic.
He added that unresolved bilateral or regional relations that can trigger disturbances to world peace are responsible for many of the challenges to peace and security. "In that sense, the mechanisms of parliamentary diplomacy as IPU instruments gain particular meaning and role that can, should and finally must be adequately expressed in regional problems", said the Deputy Speaker.

To that end, Marinkovic spoke about the special role of the younger generations of parliamentarians who have the responsibility to maintain and improve the Inter-Parliamentary Union and consistently realize its basic goals and program commitments in the degree the generations of their predecessors managed to do in the 130 years of its existence and perseverance.


---
---
monday, 21 september
No announcements for selected date