National Assembly of the Republic of Serbia / Activities / Activity details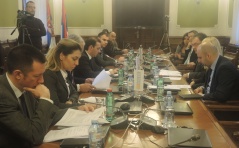 28 January 2015 Seventh Meeting of National Assembly Economic Caucus
Wednesday, 28 January 2015
Seventh Meeting of National Assembly Economic Caucus
At the meeting held on 28 January, the members of the Economic Caucus discussed the harmonisation of the Law on Waters and Environmental Protection Law with the Law on Planning and Construction.
---
They analysed the potential effect of the harmonisation of these laws, especially as regards procedures, documentation and deadlines.
The members of the Economic Caucus agreed that the Economic Caucus should establish close cooperation with the Ministry of Agriculture and Environmental Protection on the issue in order to open up investment opportunities as soon as possible.

The Economic Caucus also discussed the initiatives and activity plan for 2015 which included, among other things, arranging open door days with entrepreneurs.

In addition to the members of the Economic Caucus the meeting was also attended by representatives of IRI, NALED, USAID and the European Movement.

The Head of the Economic Caucus, Prof. Dr Vladimir Marinkovic presided over the meeting.


---
---
monday, 30 november
9.00 - National Assembly Speaker Ivica Dacic at the online Council session and 13th Plenary Session of the Collective Security Treaty Organisation (National Assembly House, 13 Nikola Pasic Square, hall 1)

11.00 - sitting of the Environmental Protection Committee (National Assembly House, 13 Nikola Pasic Square, hall 4)

12.00 - National Assembly Speaker Ivica Dacic meets with the the Chairman of the House of Representatives of the Parliamentary Assembly of Bosnia and Herzegovina Nebojsa Radmanovic (National Assembly House, 13 Nikola Pasic Square, hall 1)

12.45 - press conference of National Assembly Speaker Ivica Dacic and the Chairman of the House of Representatives of the Parliamentary Assembly of Bosnia and Herzegovina Nebojsa Radmanovic (National Assembly House, 13 Nikola Pasic Square, Central Hall)