National Assembly of the Republic of Serbia / Activities / Activity details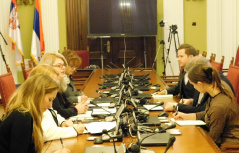 1 February 2018 The Chairperson of the Serbian Parliamentary Energy Policy Forum in meeting with the representatives of the UK Foreign and Commonwealth Office
Thursday, 1 February 2018
Serbian Parliamentary Energy Policy Forum Chairperson Talks with UK Foreign and Commonwealth Office Representatives
The Chairperson of the Serbian Parliamentary Energy Policy Forum Dr Aleksandra Tomic met today, at the National Assembly, with Dr Nick Norton and Lydia Gray, representatives of the UK Foreign and Commonwealth Office in charge of energy issues, to discuss the current energy issues in Serbia and the UK.
---
Dr Aleksandra Tomic said that Serbia had signed the Energy Community Treaty back in 2005 and was the first state to have transposed the Third Energy Package into its legislation.
Serbia also adopted the Energy Development Strategy by 2025 and the Action Plan for its implementation, said Tomic emphasizing the importance of the action plan as regards the use of renewable energy sources. Dr Aleksandra Tomic also spoke about Serbia's energy policy from the aspect of legislation saying that the Serbian Parliamentary Energy Policy aims to bring together all the relevant energy-related topics.
Dr Nick Norton and Lydia Gray spoke about energy-related topics of importance for the UK, especially in the context of Brexit. They stressed that the UK would remain within the European energy community and keep all of its interconnections with European countries, as well as continue cooperation with the EU as regards energy policy.
The officials opined that cooperation in the field of energy and strengthening energy potentials, especially renewable energy sources, is of common interest and surpass any political issue, concluding that it is essential for the European countries to cooperate in the field.
---
---
tuesday, 6 june
8.45 - the National Assembly Speaker meets with a delegation of the Polish Sejm Foreign Affairs Committee (National Assembly House, 13 Nikola Pasic Square, hall 1)

10.00 - the Chairman and members of the National Assembly Foreign Affairs Committee meet with the delegation of the Polish Sejm Foreign Affairs Committee (National Assembly House, 13 Nikola Pasic Square, hall 2)

10.00 - continuation of the Third Extraordinary Session of the National Assembly of the Republic of Serbia, 13th Legislature (National Assembly House, 13 Nikola Pasic Square)

11.10 - the Head and members of the PFG with Poland meet with the delegation of the Polish Sejm Foreign Affairs Committee (National Assembly House, 13 Nikola Pasic Square, hall 2)

12.10 - presentation of the stamp bearing the image of Nicolaus Copernicus for the delegation of the Polish Sejm Foreign Affairs Committee (National Assembly House, 13 Nikola Pasic Square, library)