National Assembly of the Republic of Serbia / Activities / Activity details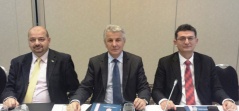 16 December 2015 The delegation of the Security Services Control Committee at the Regional Parliamentary Roundtable on the Supervision of Security-Intelligence Agencies in the Western Balkans
Thursday, 17 December 2015
Security Services Control Committee Delegation at Regional Parliamentary Roundtable on Supervision of Security-Intelligence Agencies in Western Balkans
The members of the Security Services Control Committee visited Ljubljana, Republic of Slovenia, in the period 14-16 December 2015, to take part in the Regional Parliamentary Roundtable on the Supervision of Security-Intelligence Agencies in the Western Balkans.
---
The roundtable was organised by the Geneva Centre for the Democratic Control of Armed Forces (DCAF) is a continuation of the cooperation of the parliamentary committees aimed at improving the MPs' supervisory capacities and exchanging experiences, started with the meeting in Sarajevo in 2009, and continued in Zagreb in 2010, Belgrade in 2011, Ljubljana in 2012 and lastly in Belgrade on 8 and 9 December 2014, hosted by the Security Services Control Committee.

Besides the representatives of the National Assembly of the Republic of Serbia, the Regional Parliamentary Roundtable was also attended by representatives of the competent parliamentary committees of Albania, Bosnia and Herzegovina, Macedonia, Croatia and Montenegro.

The participants emphasised the importance of regional cooperation between the parliamentary bodies in charge of supervising the security sector and the need for an exchange of information on legal and procedural solutions in place in other countries in order to recognise the potential for improvement of accountability and respect for the rule of law and human rights in the work of security-intelligence agencies, as well as adopting good practices so as to find an acceptable framework for an efficient and effective control of the work of security-intelligence agencies.

Speaking of the role of all the segments of the security-intelligence system and the society as a whole in the fight against violent extremism and terrorism, the parliamentarians opined that strengthening both internal and international cooperation is essential. The parliament, independent state bodies, expert public, NGOs are expected to contribute to the recognition of the importance of combating violent extremism and terrorism, which makes them important factors in the process.

The delegation of the Security Services Control Committee was headed by Veroljub Arsic, National Assembly Deputy Speaker and Committee member. The delegation comprised Committee members Dragan Sormaz and Sinisa Maksimovic.


---
---
thursday, 11 august
No announcements for selected date