National Assembly of the Republic of Serbia / Activities / Activity details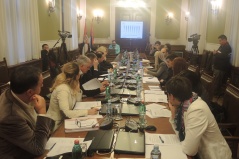 1 December 2014 Second meeting of the National Assembly's Economic Caucus
Monday, 1 December 2014
Second Meeting of National Assembly Economic Caucus
At the second meeting of the National Assembly's Economic Caucus, the informal parliamentary group discussed the Draft Law amending and modifying the Law on Planning and Construction.
---
The representatives of NALED and USAID presented the key reforms contained in the Draft Law to the members of the Economic Caucus which, among other things, regulate the field of urban planning, propose the establishment of a one-stop-shop and resolve the location of those "trapped" in the right of use regime (conversion).

According to Dusan Vasiljevic of the USAID Business Enabling Project, the proposed model cuts the wait time for the license of use to 54 days. Vasiljevic said that the Draft Law is expected to result in increased building offers to investors and activation of "trapped locations", simplification of the process, elimination of 20 administrative steps and decreased building costs.

The members of the Economic Caucus agreed that the body should cooperate with representatives of the relevant Assembly committees and the Ministry of Construction, Transport and Infrastructure toward harmonising future legislation with the Draft Law.

The members of the Economic Caucus decided to discuss the legislation relating to inspections, archival material and energy production in the next meeting.

The meeting was chaired by National Assembly Deputy Speaker Prof. Dr Vladimir Marinkovic and attended by Zoran Babic, Dr Aleksandra Tomic, Dejan Radenkovic, Katarina Rakic and Milosav Milojevic, members of the Economic Caucus.

The National Assembly's Economic Caucus was established on 19 November 2014.


---
---
monday, 30 november
9.00 - National Assembly Speaker Ivica Dacic at the online Council session and 13th Plenary Session of the Collective Security Treaty Organisation (National Assembly House, 13 Nikola Pasic Square, hall 1)

11.00 - sitting of the Environmental Protection Committee (National Assembly House, 13 Nikola Pasic Square, hall 4)

12.00 - National Assembly Speaker Ivica Dacic meets with the the Chairman of the House of Representatives of the Parliamentary Assembly of Bosnia and Herzegovina Nebojsa Radmanovic (National Assembly House, 13 Nikola Pasic Square, hall 1)

12.45 - press conference of National Assembly Speaker Ivica Dacic and the Chairman of the House of Representatives of the Parliamentary Assembly of Bosnia and Herzegovina Nebojsa Radmanovic (National Assembly House, 13 Nikola Pasic Square, Central Hall)