National Assembly of the Republic of Serbia / Activities / Activity details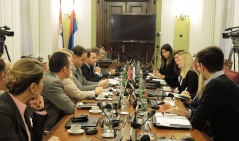 20 November 2014 Prof. Dr Vladimir Marinkovic to head newly-established Economic Caucus
Thursday, 20 November 2014
Prof. Dr Vladimir Marinkovic to Head Newly-Established Economic Caucus
The basic task of the National Assembly's Economic Caucus will be to improve the business environment and launch joint projects and dialogue with entrepreneurs in order to find the best solutions to make Serbia a good place to invest, said Prof. Dr Vladimir Marinkovic at the founding meeting where he was elected Chair of the National Assembly's Economic Caucus.
---
The task of the Economic Caucus would be to work on the amendments to laws concerning socio-economic policy, while the Caucus member will also be discussing the fusion of inspection services so as to join forces with the Government of the Republic of Serbia in suppressing grey economy and be able to supervise the work of market inspections. The Chair of the Economic Caucus announced the possible visit to the National Assembly by a legal advisor to the Economic Caucus of the US Congress.
An announcement on the establishment of the Economic Caucus and an invitation to take part in its work will be sent to Prime Minister Aleksandar Vucic and the Government members, as well as former MPs.
The initiative to set up the Economic Caucus was launched by the National Alliance for Local Economic Development (NALED) and the International Republican Institute (IRI) in Serbia.

---
---
monday, 30 november
9.00 - National Assembly Speaker Ivica Dacic at the online Council session and 13th Plenary Session of the Collective Security Treaty Organisation (National Assembly House, 13 Nikola Pasic Square, hall 1)

11.00 - sitting of the Environmental Protection Committee (National Assembly House, 13 Nikola Pasic Square, hall 4)

12.00 - National Assembly Speaker Ivica Dacic meets with the the Chairman of the House of Representatives of the Parliamentary Assembly of Bosnia and Herzegovina Nebojsa Radmanovic (National Assembly House, 13 Nikola Pasic Square, hall 1)

12.45 - press conference of National Assembly Speaker Ivica Dacic and the Chairman of the House of Representatives of the Parliamentary Assembly of Bosnia and Herzegovina Nebojsa Radmanovic (National Assembly House, 13 Nikola Pasic Square, Central Hall)