National Assembly of the Republic of Serbia / Activities / Activity details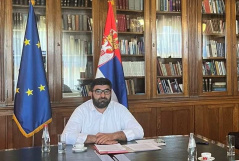 18 July 2023 Prof. Dr Jahja Fehratovic at the online meeting
Tuesday, 18 July 2023
Prof. Dr Jahja Fehratovic at Online Meeting with MEPs and European Union Candidate Countries MPs
At the invitation of Anna Cavazzini, Chair of the European Parliament Committee on the Internal Market and Customer Protection, Prof. Dr Jahja Fehratovic took part in the online meeting entitled "EU Digital Single Market – Are you In? Opportunities for candidate countries".
---
The meeting presented an opportunity to exchange of views on relevant topics concerning the digital single market, which is currently the most developed part of the EU Single Market. The meeting will be attended by members of the European Parliament and members of the national parliaments of EU candidate countries.
The discussion comprised two panels: Panel 1: Digital Single Market in light of the Digital Services Act (DSA) and the Digital Market Act (DMA) - impact beyond the borders of the European Union and Panel 2: e-Government accelerating digital public services that support the functioning of the single market.
---
---
saturday, 9 december
No announcements for selected date