National Assembly of the Republic of Serbia / Activities / Activity details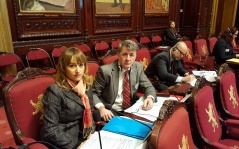 7 December 2015 The members of the Serbian delegation
Monday, 7 December 2015
PACE Political Committee Adopts Report on Kosovo
The PACE Committee on Political Affairs and Democracy adopted a preliminary draft of the resolution entitled "Situation in Kosovo and the role of the Council of Europe", in Brussels today, 7 December. The report concerns human rights, the rule of law, position of minorities and democracy in Kosovo, and does not take into consideration the issue of status. The members of the Serbian delegation, Aleksandra Djurovic and Prof. Dr Zarko Obradovic, took part in the Committee's proceedings and the debate on the situation in Kosovo-Metohija.
---
The National Assembly delegation proposed four amendments which the Committee accepted. They call on the Pristina authorities to implement the provisions of the Brussels Agreement regarding the establishment of the Community of Serb municipalities, improve police cooperation within the existing UNMIK and INTERPOL mechanisms, they also draw attention to the Kosovo-Metohija's failed UNESCO bid and support the processing of war crimes.

"We are pleased by the rapporteur's work and the fact that the Committee adopted the resolution because it contains numerous recommendations which will enable the implementation of Council of Europe standards in Kosovo-Metohija. It is important that all citizens living in Kosovo-Metohija enjoy the protection of their human and minority rights, the rule of law and democracy. We are especially pleased that the amendment obligating the Pristina authorities to establish the Community of Serb municipalities was unanimously accepted. It sends a clear signal that the members of the PACE are aware of the many obstructions coming from Pristina and the constructive role Serbia has in the dialogue" – stressed the Head of the National Assembly's standing delegation, Aleksandra Djurovic.

The adopted draft resolution will be discussed at the next session of the Parliamentary Assembly in Strasbourg, 25-29 January 2016, when it is expected to be adopted by the plenary.


---
---