National Assembly of the Republic of Serbia / Activities / Activity details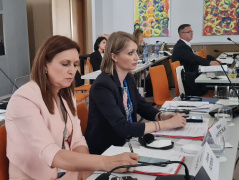 23 May 2023 The members of the National Assembly delegation to the Parliamentary Assembly of the Council of Europe at the meeting of the PACE Committee on Legal Affairs and Human Rights
Wednesday, 24 May 2023
National Assembly Standing Delegation Takes Part in PACE Legal Affairs and Human Rights Committee Meeting in Larnaca
The Head of the National Assembly's standing delegation to the Parliamentary Assembly of the Council of Europe (PACE) Biljana Pantic Pilja and delegation member Dubravka Filipovski took part in the meeting of the PACE Committee on Legal Affairs and Human Rights on 22 and 23 May 2023.
---
The Speaker of the House of Representatives of the Republic of Cyprus Annita Demetriou addressed the participants, emphasising the importance of the topics in the Committee's scope such as the application of the European Convention on Human Rights, implementation of judgments of the European Court of Human Rights and transnational repression as a growing threat for the rule of law and human rights. She especially referred to the systemic violation of the property rights of Cypriot Greeks on the occupied part of the island. She opined that "the invasion and occupation of the part of Cyprus is identical to the situation in Ukraine" and that the same principles of international law must be implemented in all the Council of Europe member states, "instead of there being a double standard depending on who is the aggressor".
In the course of the stay in Cyprus, Biljana Pantic Pilja, as Head of the PFG with Cyprus, and Biljana Pantic Pilja, as PFG member, met at the Parliament of Cyprus in Nicosia with Harris Georgiades, Chairperson of the House Standing Committee on Foreign and European Affairs and Head of the PFG with Serbia. The officials affirmed the strong friendly relations between the two countries and peoples, as well as the reciprocal support to the territorial integrity and sovereignty of Serbia and Cyprus.
The officials spoke of advancing parliamentary cooperation at all levels. Georgiades said that the relations between the two countries are brotherly and sent a strong message of support for Serbia's European path. "Serbia belongs in the European family of peoples", Georgiades concluded. He expressed interest in the continuation of parliamentary cooperation and in a visit to Serbia by the end of the year, as well as a visit of the National Assembly Speaker to Nicosia. The meeting was attended by Serbian Ambassador to Cyprus H.E. Marko Blagojevic.
---
---