National Assembly of the Republic of Serbia / Activities / Activity details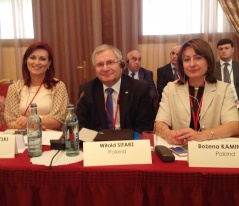 17 June 2015 Dubravka Filipovski, member of the National Assembly's standing delegation to the NATO PA, takes part in the 89th Rose-Roth Seminar in Yerevan
Wednesday, 24 June 2015
National Assembly Standing Delegation Member Takes Part in NATO PA 89th Rose-Roth Seminar in Yerevan
Dubravka Filipovski, member of the National Assembly's standing delegation to the NATO Parliamentary Assembly, took part in the NATO Parliamentary Assembly 89th Rose-Roth Seminar, 17-20 June 2015, in Yerevan, Republic of Armenia, with the topic "Security and Stability in the South Caucasus: Fostering Enduring Regional Peace".
---
At the gathering, attended by about 160 participants, including 75 parliamentarians from 17 NATO PA member and associate countries, the participants discussed the Armenian cooperation with the Euro-Atlantic community, ISIS actions in the Middle East and beyond, the situation in Nagorno-Karabakh, NATO partnership in the South Caucasus, building integrity as part of defence reform in Armenia, as well as energy security in the South Caucasus.

Among others, the participants of the 89th Rose-Roth Seminar were addressed by Armenian Parliament Speaker Galust Sahakyan, Foreign Minister Eduard Nalbandyan, Defence Minister Seyran Ohanyan and others.

Taking active part in the discussion launched by the Armenian Foreign Minister, MP Dubravka Filipovski had questions about the country's future cooperation with the European Union, considering that Armenia is member of the Eurasian Economic Union and has refused to sign the Stabilisation and Association Agreement with the EU. In the discussion following the Defence Minister's address regarding Armenia's cooperation with the Euro-Atlantic community, the MP had questions about the percentage of the budget Armenia allocates for the development of the military and defence system and the representation of women in the military and peace missions Armenia participates in. She asked Deputy Minister of Energy Areg Galstyan whether Armenia is planning to become a member of the European Energy Community, which she opined was important for the development of energy security, mentioning Serbia and Georgia as positive examples in the area. She asked the Head of the Armenian delegation to NATO PA Koryun Nahapetyan a question about the parliament's oversight role in Armenia's defence system.


---
---
friday, 18 september
No announcements for selected date