National Assembly of the Republic of Serbia / Activities / Activity details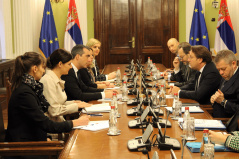 2 December 2022 The National Assembly Speaker in meeting with the EU Commissioner for Neighbourhood and Enlargement
Friday, 2 December 2022
National Assembly Speaker Meets with Olivér Várhelyi
The Speaker of the National Assembly of the Republic of Serbia Dr Vladimir Orlic met today with EU Commissioner for Neighbourhood and Enlargement Olivér Várhelyi.
---
In the course of the meeting, the National Assembly Speaker mentioned the situation in Kosovo-Metohija and Brussel's reaction to one more breach of the agreement y Pristina. "Not only has the Brussels Agreement been violated, everything has been violated", said Dr Orlic. "You have been made aware of the reaction of Serbian President Aleksandar Vucic to yesterday's events. Rest assured that everyone in Serbia stands behind the President's words", he added.
Today's meeting also touched on the acceleration of European integration through the application of new methodology and the significant contribution of the National Assembly of the Republic of Serbia in terms of the constitutional amendment, judiciary reform and results of the inter-party dialogue was also noted.
---
Photo gallery
---
---
wednesday, 1 february
8.00 - the National Assembly Speaker meets with the High Representative for Bosnia and Herzegovina (National Assembly House, 13 Nikola Pasic Square, hall 1)

12.00 - Seventh Regular Meeting of the Collegium of the National Assembly, 13th Legislature (National Assembly House, 13 Nikola Pasic Square, hall 1)