National Assembly of the Republic of Serbia / Activities / Activity details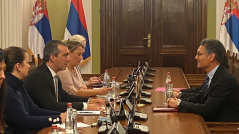 21 September 2022 National Assembly Speaker Dr Vladimir Orlic in meeting with the Ambassador of the Kingdom of Morocco to the Republic of Serbia, H.E. Mohammed Amine Belhaj
Wednesday, 21 September 2022
National Assembly Speaker Meets with Moroccan Ambassador to Serbia: Looking Forward to Further Cooperation
The Speaker of the National Assembly of the Republic of Serbia Dr Vladimir Orlic met today with the Ambassador of the Kingdom of Morocco to the Republic of Serbia, H.E. Mohammed Amine Belhaj to discuss improving the overall cooperation between the two countries.
---
National Assembly Speaker Dr Orlic pointed out that "Serbia and Morocco nurture a truly friendly relationship based on respect, trust and solidarity. We are committed to continue to invest in the development of bilateral relations at all levels", Dr Orlic emphasised.
The Speaker added that the Republic of Serbia and the Kingdom of Morocco are well on their way to achieving a strategic partnership in all areas of mutual interest, expressing the expectation that the significance of the Republic of Serbia's presence in the economic and any other sense, both in Morocco and throughout the African continent, would increase.
"Interparliamentary cooperation is at an extraordinary level and we expect the National Assembly 13th legislature's Parliamentary Friendship Group with Morocco would be established soon", said Dr Orlic. He also expressed his satisfaction with the fact that the Parliament of Morocco has a Parliamentary Friendship Group with Serbia in.
Speaking about the UN General Assembly in New York, where Serbia is represented at the highest level, with the President of Serbia Aleksandar Vucic scheduled to speak, Dr Orlic especially thanked the leadership of Morocco for their principled position and respect for Serbia's territorial integrity and sovereignty, opining that Serbia and Morocco advocate and fight for the same principles. "The world is increasingly understanding the principles that we stand for together and that is why most of the countries in the UN today share the same positions as Serbia in terms of respect for sovereignty and territorial integrity, and as of yesterday, our president was handed another note of withdrawal the recognition of so-called of Kosovo", stressed Dr Orlic. The National Assembly Speaker also underlined that Serbia, for its part, welcomes Morocco's role as a regional pillar of stability and leader of growth and development in Africa.
Ambassador Belhaj took the opportunity to personally congratulate Dr Vladimir Orlic on his election for National Assembly Speaker and expressed his satisfaction regarding future cooperation.
---
---
thursday, 6 october
10.15 - the National Assembly Speaker meets with the Iranian Deputy Foreign Minister (National Assembly House, 13 Nikola Pasic Square, hall 1)

10.30 - press conference of MPs Radomir Lazovic and Robert Kozma (National Assembly House, 13 Nikola Pasic Square, Central Hall)

11.00 - sitting of the Environmental Protection Committee (National Assembly House, 13 Nikola Pasic Square, hall 3)

11.00 - sitting of the Committee on Administrative, Budgetary, Mandate and Immunity Issues (National Assembly House, 13 Nikola Pasic Square, hall 4)

12.00 - the Chairman of the Foreign Affairs Committee meets with the Polish Ambassador to Serbia (National Assembly House, 13 Nikola Pasic Square, hall 2)

13.30 - press conference of MP Dejan Bulatovic (National Assembly House, 13 Nikola Pasic Square, Central Hall)

14.00 - the Chairman of the Foreign Affairs Committee meets with the UK Ambassador to Serbia (National Assembly House, 13 Nikola Pasic Square, hall 2)