National Assembly of the Republic of Serbia / Activities / Activity details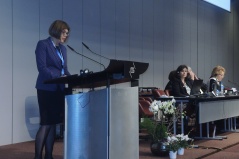 18 October 2015 The National Assembly Speaker at the Assembly of the Inter-Parliamentary Union
Sunday, 18 October 2015
National Assembly Speaker Maja Gojkovic at Inter-Parliamentary Union Assembly
National Assembly Speaker Maja Gojkovic is taking part in the 133rd Assembly of the Inter-Parliamentary Union (IPU), opened by IPU President Saber Chowdhury, in Geneva, where parliamentarians from 130 countries of the world are debating migrations - the moral and economic imperative for fairer, smarter and humane migration.
---
Addressing the IPU Assembly Gojkovic said that the migrant crisis is an issue of solidarity and respecting human rights, stressing that Serbia has pursued an open policy, based on human solidarity and understanding.

"We have helped as much as we could, despite economic difficulties. We have not and will not build walls along our borders because we are sure the future lies in cooperation and exchange, not fences and wires", said the Assembly Speaker.

Gojkovic said that, for the refugees and migrants to the EU, Serbia is a transition country and since the beginning of the year, more than 220,000 migrants have been discovered. So far, Serbia has funded 90% of the registration, housing and medical assistance for the migrants from its own budget, adding that many donations from international and civil society organisations aid the humanitarian efforts.

The National Assembly Speaker stressed that dealing with the migration problem calls for assistance and cooperation between all states and nations, and in these processes we need to continue to develop the spirit of solidarity among the people.

The parliamentarians will also be discussing countering terrorism, strengthening the parliament's control role, and there will be several committee meetings. The IPU Assembly is attended by National Assembly standing delegation members Nebojsa Beric, Milorad Mijatovic and Goran Bogdanovic.

At the margins of the IPU Assembly, Gojkovic will have a series of bilateral meetings with the parliament speakers of Ethiopia, Armenia, Cyprus, India and others.


---
---
| M | T | W | T | F | S | S |
| --- | --- | --- | --- | --- | --- | --- |
| 27 | 28 | 29 | 30 | 31 | 1 | 2 |
| 3 | 4 | 5 | 6 | 7 | 8 | 9 |
| 10 | 11 | 12 | 13 | 14 | 15 | 16 |
| 17 | 18 | 19 | 20 | 21 | 22 | 23 |
| 24 | 25 | 26 | 27 | 28 | 29 | 30 |
| 31 | 1 | 2 | 3 | 4 | 5 | 6 |
wednesday, 12 august
No announcements for selected date