National Assembly of the Republic of Serbia / Activities / Activity details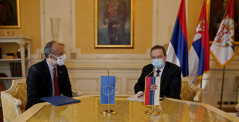 2 December 2020 National Assembly Speaker Ivica Dacic and the Head of EU Delegation to Serbia Ambassador Sem Fabrizi
Wednesday, 2 December 2020
National Assembly Speaker Ivica Dacic Receives Head of EU Delegation to Serbia Ambassador Sem Fabrizi
Ambassador Fabrizi congratulated National Assembly Speaker Ivica Dacic on taking office, adding that he was certain the good cooperation established during Mr. Dacic's tenure as the head of diplomacy would be continued in his new position.
---
National Assembly Speaker Ivica Dacic informed briefed the guest on the National Assembly's current activities and priorities in the coming period. He emphasized his readiness to work on strengthening the role of the National Assembly during his mandate. He informed the Ambassador that the National Assembly has already made changes aimed at improving its work, in line with the recommendations from the European Commission's Progress Report on Serbia. He stressed that, with its work and activities, the National Assembly would try to contribute to the Serbia's European integration process of the best way it can.
The National Assembly Speaker went on to say that the National Assembly would soon organise a session, in agreement with the President of the Republic and the Prime Minister, dedicated to the European Commission's 2020 Progress Report on Serbia. This will be the first time the Progress Report is discussed in the plenary.
The officials discussed the inter-party dialogue and plans for its continuation, in accordance with the earlier agreements reached between the representatives of the European Parliament and the then Speaker of the National Assembly. National Assembly Speaker Ivica Dacic announced that after the adoption of the budget, this issue would become the focus of the Assembly's attention and in that context, he would soon initiate talks with David McAllister, Chair of the European Parliament's Committee on Foreign Affairs, to exchange views on the inter-party dialogue, the topics it should include, participants, time frame, etc.
Ambassador Fabrizi emphasized the importance the EU attaches to the continuation of the inter-party dialogue and welcomed the readiness to do so soon. He praised the initiative to consider the European Commission's 2020 Progress Report on Serbia in the National Assembly. He also welcomed the changes the National Assembly has begun to implement in its work adding that the EU stands ready to provide any and all assistance and support for further improvement of the Parliament's efficiency. Finally, Ambassador Fabrizi underlined the importance of involving civil society organizations in the legislative process
---
Photo gallery
---
---
saturday, 23 january
No announcements for selected date