National Assembly of the Republic of Serbia / Activities / Activity details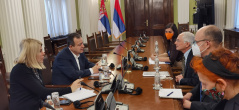 4 March 2022 The National Assembly Speaker in meeting with the Head of ODIHR Election Observation Mission in Serbia
Friday, 4 March 2022
National Assembly Speaker Ivica Dacic Meets with Head of ODIHR Election Observation Mission in Serbia Douglas Wake
The Speaker of the National Assembly of the Republic of Serbia Ivica Dacic met with the Head of the ODIHR Election Observation Mission in Serbia Douglas Wake.
---
National Assembly Speaker Ivica Dacic stressed that Serbia attaches great significance to the institution of ODIHR with which it has enjoyed excellent cooperation for years now, as evidenced in the fact that the invitation to observe the elections had been sent to ODIHR before the elections had been formally called. He said that the Republic of Serbia is actively working on improving its electoral process, accepting and implementing ODIHR's recommendations, and reminded the guest that the Republic of Serbia had set up a Working Group for cooperation with the Organisation for Security and Co-operation in Europe and its Office for Democratic Institutions and Human Rights to coordinate and monitor the implementation of the recommendations for the improvement of the electoral process.
Ivica Dacic briefed the ODIHR representatives on the inter-party dialogue, in which he was a co-facilitator along with representatives of the European Parliament, and the results achieved toward the improvement of the electoral process.
The Head of the ODIHR election observation mission in Serbia Douglas Wake informed the National Assembly Speaker that the observation mission for the upcoming elections is comprised of 15 experts in the fields (media, national minorities, legal aspect) identified in the ODIHR Election Assessment Mission's Report. In addition, the Mission will also have 26 long-term observers who will begin their work today and 250 short-term observers. Speaking of the Mission's work, he stressed that it would focus on the presidential and parliamentary elections, while the local elections would be observed only if they affect the presidential and parliamentary elections in some way. He also said that he would make sure the Mission's work is objective, with the expected transparency and cooperativity of the national institutions and organisations.
The National Assembly Speaker, as always, expressed readiness and openness for cooperation with ODIHR representatives.
---
Photo gallery
---
---
saturday, 3 june
No announcements for selected date