National Assembly of the Republic of Serbia / Activities / Activity details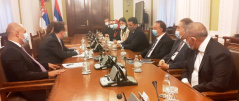 22 September 2021 National Assembly Speaker Ivica Dacic in meeting with the delegation of the Alexandria Governorate and Chamber of Commerce
Wednesday, 22 September 2021
National Assembly Speaker Ivica Dacic Meets with Alexandria Governorate and Chamber of Commerce Delegation
The Speaker of the National Assembly of the Republic of Serbia Ivica Dacic received a business delegation from Egypt, headed by the Governor of Alexandria Mohamed El-Sherif, and the President of the Alexandria Chamber of Commerce Ahmed El Wakil.
---
At the beginning of the meeting, National Assembly Speaker Ivica Dacic welcomed the business delegation, saying that the people of Serbia and Egypt were bound by decades of sincere friendship which we should continue to improve, primarily by strengthening cooperation in areas of common interest.
Assembly Speaker Dacic opined that the two countries share a traditionally good and friendly political and parliamentary relations and a partnership, however there is a lot of room to strengthen cooperation in other areas, especially economic and business cooperation since, due to its degree of development and proximity, Egypt is an African country with perhaps the greatest potential for it.
The Governor of Alexandria Mohamed El-Sherif expressed his gratitude for the reception, announcing that this was the first visit of an Alexandrian business delegation to Serbia. He said he was very pleased with the successful meetings the delegation has had in the course of the visit with representatives of the Ministry of Economy, the City of Novi Sad and the Provincial Government, the Novi Sad Chamber of Commerce, adding that that they had also signed a Cooperation Agreement with the City of Novi Sad.
The President of the Alexandria Chamber of Commerce Ahmed El Wakil said he hoped that in the near future they would have the opportunity to organise more meetings with businessmen, in order to discuss the improvement of economic cooperation in direct contacts with them. He said that the delegation, among others, includes representatives of companies dealing with the import and export of fruits and vegetables especially interested in Serbian products.
At the end of the meeting, the representatives of the Egyptian delegation extended an invitation to National Assembly Speaker Dacic to come and visit Alexandria, stressing that it is one of the oldest and most beautiful cities in the Mediterranean.
---
---
wednesday, 20 october
14.00 - National Assembly Deputy Speaker Dr Vladimir Orlic and Head of PFG with Germany Vesna Markovic meet with the Deputy Speaker of the Bundestag Claudia Roth (National Assembly House, 13 Nikola Pasic Square, hall 2)