National Assembly of the Republic of Serbia / Activities / Activity details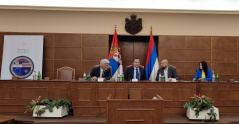 1 July 2022 The National Assembly Speaker at the conference "The Position of Serbia's in the Euro-Atlantic Community"
Friday, 1 July 2022
National Assembly Speaker Addresses Conference on Position of Serbia's in Euro-Atlantic Community
The Speaker of the National Assembly of the Republic of Serbia Ivica Dacic addressed the conference "The Position of Serbia's in the Euro-Atlantic Community".
---
THE FOLLOWING IS THE SPEECH OF THE SPEAKER OF THE NATIONAL ASSEMBLY OF THE REPUBLIC OF SERBIA IN ITS ENTIRETY:
"Dear participants of the conference,
Dear friends,
I am glad to be able to address you on this occasion and I want to thank the Euro-Atlantic Council of Serbia and Mr Sormaz, head of the Serbian Assembly's standing delegation to the NATO Parliamentary Assembly, for organising this meeting, and especially because it is being held in the National Assembly. We have before us a very current and important topic, bearing in mind the complicated international situation, and that is why I support every effort to look at all the aspects of current events, as well as Serbia's position in these circumstances, in conversation with political representatives, civil society and partners from abroad.
I am not going to elaborate here, because Serbia's position on the war in Ukraine has been completely clear since day one and has not changed. It is like that because it is based on respect for the principles of international law, and even if these principles are not appreciated today, we hold on to them firmly. We have no other choice, because the foothold for our own open issues of the greatest state and national importance, which is the issue of Kosovo-Metohija, lies in international law and will not back down. If we ask for that principle to be respected in our case, then we cannot trample it in others.
You know that Serbia recognises Ukraine's sovereignty and territorial integrity and you know that this position has remained unchanged since the crisis in that country began eight years ago. For Serbia, respect for sovereignty and territorial integrity is a supreme principle of international law, not only in the case of Ukraine - it is now in the centre of world attention, we insist that it is also respected in the case of Kosovo-Metohija. Especially in the case of Kosovo-Metohija, for 14 years now we have been fighting against its international recognition because we are deeply convinced that this recognition not only violates Serbia's the sovereignty, it also tramples on one of the fundamental pillars of preserving peace and stability in the world.
In light of this, Serbia does not intend to change its principled position. Let them not expect us to change our attitude, because we cannot work against ourselves, our country and against the principles that alone guarantee peace in the world.
We know that defending principles is the most difficult thing, that it is much easier to change policy in accordance with current interests and look for ad-hoc solutions to the problems that exist at that moment. But we also know that in the long term we can realise our national interests only if we firmly stand by generally accepted principles in international relations.
As for our relations with NATO, from my many years of experience as prime minister, minister of interior and foreign affairs, and now also as parliament speaker, I can only praise this cooperation. Especially the cooperation with the KFOR mission in Kosovo-Metohija, whose role in protecting the peace and security of the Serbian community we highly value. But there is also a whole series of other joint activities, both at the military and defence level, as well as the political level, and we really want to continue our cooperation with NATO with the same or even greater intensity, because it is in the interest of Serbia, and I hope in the interest of NATO and its members.
It goes without saying that Serbia is consistent in its policy of military neutrality regardless of international circumstances, above all I am thinking of the war in Ukraine, we remain consistent in our position and, just as before, I expect full understanding from NATO and its members. This policy is extremely important for our national interests, it is a reflection of our historical circumstances, but above all, it is an expression of the will of the vast majority of our citizens. Only as militarily neutral, and especially in the circumstances of rising military tensions in Europe, can Serbia fully protect its highest interests, namely the stability of our country and its further economic prosperity. If you expect us to choose a side, always expect us to choose - Serbia.
Once again, I would like to welcome you to the National Assembly and wish you success in the work of this conference.
Thank you!"
---
Photo gallery
---
---
tuesday, 28 march
14.00 - sitting of the Committee on Human and Minority Rights and Gender Equality (National Assembly House, 13 Nikola Pasic Square, hall 2)

14.25 - ceremonial welcome of the President of the Republic of Greece (National Assembly House, 13 Nikola Pasic Square, Central Hall)

14.30 - the National Assembly Speaker meets with the President of the Republic of Greece (National Assembly House, 13 Nikola Pasic Square, hall 1)

16.00 - the National Assembly Speaker meets with the Kazakh Ambassador to Serbia (National Assembly House, 13 Nikola Pasic Square, hall 1)