National Assembly of the Republic of Serbia / Activities / Activity details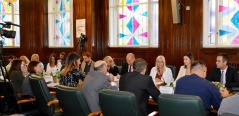 15 September 2017 Participants of the Forum "Stronger Democracies – Get Involved!"
Friday, 15 September 2017
National Assembly Hosts Working Forum "Stronger Democracies – Get Involved!"
The National Assembly marked the 20th anniversary of the Universal Declaration on Democracy by co-organizing a working forum entitled "Stronger Democracies – Get Involved!".
---
At the first panel, "The future of democracy – parliaments on the path to openness and transparency", National Assembly Secretary General Svetislava Bulajic highlighted the importance of the parliament as the central institution of any democratic system, both in Serbia and the region.
"Meetings like today's offer the opportunity to exchange experiences in an open dialogue and find new creative solutions to enhance the transparency of our respective parliaments", said the Secretary General.
Jan Lueneburg, Head of the OSCE Mission to Serbia Democratisation Department, endorsed the advancement of the Serbian Parliament's openness and transparency as the essential values of democracy and gender balance.
In the second panel "Openness and transparency of the parliaments in Serbia and the region – openness action plans and benefits of parliamentary involvement in the global "Open Government Partnership" platform", the Secretary General said that the Parliament is ready to continue to develop the ongoing projects and cooperate toward furthering its openness and transparency. Bulajic said that the National Assembly's openness and transparency is evidenced by its activities concerning the work of the National Convention on the European Union which comprises and impressive number of civil society organizations and media and enables the citizens to directly participate in the democratic process and decision making. The Secretary General said that the National Assembly also cooperates with the civil society through a number of informal parliamentary groups such as the Women's Parliamentary Network, Parliamentary Energy Policy Forum, Green Parliamentary Group, National Assembly Economic Caucus, GOPAC, etc. Another way the National Assembly communicates with the public is the now traditional Parliamentary Week, organized for the third year running following the UK Parliament's example, Svetislava Bulajic concluded.
The Forum was also attended by the secretaries general of the Montenegrin Parliament and the Joint Service of the Secretariat of the Parliamentary Assembly of Bosnia and Herzegovina Aleksandar Jovicevic and Kenan Vehabovic respectively. They agreed that openness and transparency are the cornerstones of parliaments in well-ordered states, adding that they were ready to enhance the already very professional and good interparliamentary cooperation at the level of support services.
Jovana Djurbabic of the Open Parliament initiative agreed that the Forum is a good place to hear new ideas for future action plans which would, in cooperation with the support services, help educate the public about parliamentary democracy. Representatives of civil society organisations took active part in the ensuing discussion which revolved around topics concerning the promotion of cooperation between the non-governmental sector and the National Assembly.


---
---
tuesday, 6 june
8.45 - the National Assembly Speaker meets with a delegation of the Polish Sejm Foreign Affairs Committee (National Assembly House, 13 Nikola Pasic Square, hall 1)

10.00 - the Chairman and members of the National Assembly Foreign Affairs Committee meet with the delegation of the Polish Sejm Foreign Affairs Committee (National Assembly House, 13 Nikola Pasic Square, hall 2)

10.00 - continuation of the Third Extraordinary Session of the National Assembly of the Republic of Serbia, 13th Legislature (National Assembly House, 13 Nikola Pasic Square)

11.10 - the Head and members of the PFG with Poland meet with the delegation of the Polish Sejm Foreign Affairs Committee (National Assembly House, 13 Nikola Pasic Square, hall 2)

12.10 - presentation of the stamp bearing the image of Nicolaus Copernicus for the delegation of the Polish Sejm Foreign Affairs Committee (National Assembly House, 13 Nikola Pasic Square, library)