National Assembly of the Republic of Serbia / Activities / Activity details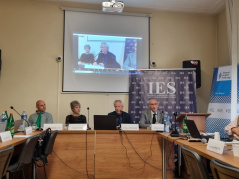 28 September 2022 The National Assembly Deputy Speaker at the international scientific conference
Wednesday, 28 September 2022
National Assembly Deputy Speaker at International Scientific Conference "Environmental Legislation and Sustainable Development – the State-of-Play in Serbia and Experiences of the Croatian EU Membership"
National Assembly Deputy Speaker Elvira Kovacs spoke at the conference co-organised by the Institute for European Studies from Belgrade and the Faculty of Law of the University Josip Juraj Strossmayer in Osijek, as part of the wider project realised with the support of the Foundation Hanns Seidel. She pointed out that this scientific meeting is an example of how to exchange experiences and knowledge related to the harmonisation and implementation of environmental legislation where we are faced with numerous challenges and which requires significant financial resources.
---
"The National Assembly, as the highest representative body and supreme legislative body, has its role in creating policies that should result in a sustainable environment. As the world continues to face the impacts of climate change, parliaments must support institutions and policies in effectively addressing potential challenges in the area. One of the roles of our parliament is to prepare Serbia and the Serbian society for membership in the community of European nations, which places environmental protection high on its political and legislative agenda," said Kovacs.
She reminded the attending that, in the negotiation process between Serbia and the European Union, environmental protection, together with climate change, is included in Chapter 27, Cluster 4 - Green Agenda and Sustainable Connectivity, all negotiation chapters of which have been opened.
"In January 2020, the National Assembly's European Integration Committee considered the Proposal of Serbia's Negotiating Position for the Intergovernmental Conference on the Accession to the European Union for Chapter 27 and gave it a positive opinion. On the occasion, the Committee appealed to all relevant institutions in Serbia to make additional efforts in terms of environmental protection, in order to improve the citizens' quality of life," Kovacs said.
The Deputy Speaker said that the previous National Assembly legislature had passed a series of environmental laws which transposed EU directives and acquis into the national legal system, something which the current legislature would continue to do, and expressed the hope that special attention will be paid to boost the participation of the citizens, civil sector and numerous other interest groups in the decision-making process in the field.
---
---
friday, 8 december
No announcements for selected date