National Assembly of the Republic of Serbia / Activities / Activity details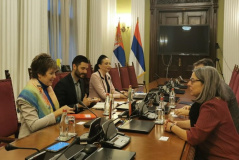 25 November 2022 Participants of the meeting
Friday, 25 November 2022
National Assembly Deputy Speaker and European Integration Committee Chairperson Speaks with Portuguese Ambassador
The National Assembly Deputy Speaker and Chairperson of the European Integration Committee Elvira Kovacs, met today with the Ambassador of the Republic of Portugal to the Republic of Serbia, H.E. Virginia Pina, with whom she discussed Serbia's European path.
---
Elvira Kovacs expressed hope that the good relations between the two countries would be further strengthened by the intensification of interparliamentary cooperation, both through the cooperation of the newly-formed Parliamentary Friendship Group with Portugal at the National Assembly and the Parliamentary Friendship Group with Serbia at the Portuguese Parliament, as well as through more intensive contact between the two parliaments' working bodies. She informed the Ambassador about the National Assembly's past activities and the work of the European Integration Committee, highlighting the Committee's exceptional work dynamic and adding that its goal remains to become the European Affairs the Committee, which would mean that Serbia has become a full member of the European Union. Kovacs stressed that Serbia is committed to the European path and is doing its best in that process. She believes that alignment of foreign policy with that of the European Union is significant, but stressed that in every process, that one included, the interest of the Serbian citizens remains paramount.
Speaking about the importance and benefits of EU membership, Ambassador Pina pointed out, first of all, the importance of the way the citizens are informed about the accession process itself. She pointed out that it is extremely important to create an objective, true and comprehensible narrative, in order to see the bigger picture. She pointed out the importance of exchanging experiences and good practices, saying that Serbia can count on Portugal's full support on its way to full EU membership.
In the course of the meeting, the officials also touched on the topic of open issues between Belgrade and Pristina, agreeing that the solution to all open issues is dialogue and the ultimate goal is the normalisation of relations.
---
---
thursday, 26 january
11.00 - sitting of the Committee on Finance, State Budget and Control of Public Spending (National Assembly House, 13 Nikola Pasic Square, hall 3)

11.00 - public hearing on: Presentation of bills to be passed with the aim of adjustment to the Act amending the Constitution of the Republic of Serbia, verified at the republic referendum on 16 January 2022, organised by the Committee on Constitutional and Legislative Issues (National Assembly House, 13 Nikola Pasic Square, Small Hall)

11.00 - the National Assembly Speaker addresses the public hearing on: Presentation of bills to be passed with the aim of adjustment to the Act amending the Constitution of the Republic of Serbia, verified at the republic referendum on 16 January 2022 (National Assembly House, 13 Nikola Pasic Square, Small Hall)

12.00 - the members of the PFG with Greece meet with the Greek Ambassador to Serbia (National Assembly House, 13 Nikola Pasic Square, hall 2)

12.30 - press conference of MPs Dalibor Jekic and Zeljko Veselinovic (National Assembly House, 13 Nikola Pasic Square, Central Hall)

13.10 - the address of the Head of the PFG with Greece and the folk dance ensemble from Sinies Corfu (National Assembly House, 13 Nikola Pasic Square, Central Hall)

14.00 - sitting of the Committee on Constitutional and Legislative Issues (National Assembly House, 13 Nikola Pasic Square, hall 3)

15.00 - judges elected to judicial office for the first time take the oath before the National Assembly Speaker (National Assembly House, 13 Nikola Pasic Square, Small Hall)