National Assembly of the Republic of Serbia / Activities / Activity details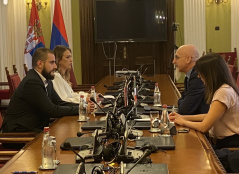 31 August 2022 National Assembly Deputy Speaker Usame Zukorlic in meeting with the Italian Ambassador to Serbia
Wednesday, 31 August 2022
National Assembly Deputy Speaker Usame Zukorlic Meets with Italian Ambassador to Serbia
National Assembly Deputy Speaker Usame Zukorlic met today at the National Assembly House with the Ambassador of the Republic of Italy to the Republic of Serbia Luca Gori.
---
At the beginning of the meeting, Usame Zukorlic stressed that, as National Assembly Deputy Speaker and representative of the Bosniak national minority, he would advocate as much as possible for the principle of justice and reconciliation and coexistence between peoples in the Republic of Serbia.
The officials discussed economic cooperation, with the Ambassador opining that our trade exchange is quite good, exceeding 4 billion euros, and adding that over 1,000 Italian companies, employing over 50,000 people, operate in Serbia. The Ambassador presented the idea of extending this cooperation to innovative areas such as green transition, nanotechnology, environmental protection and artificial intelligence.
Zukorlic pointed out that it would be of great importance if the conditions were created for Italian investments to be present in less developed areas as well, such as the Sandzak or Raska regions.
The officials agreed that there is room to improve interparliamentary cooperation.
---
---
friday, 22 september
9.00 - sitting of the Committee on Finance, State Budget and Control of Public Spending (National Assembly House, 13 Nikola Pasic Square, hall 3)

10.00 - the National Assembly Speaker meets with the Russian Ambassador to Serbia (National Assembly House, 13 Nikola Pasic Square, hall 1)

12.00 - the members of the Foreign Affairs Committee meets with the German Ambassador to Serbia (National Assembly House, 13 Nikola Pasic Square, hall 2)

14.00 - the Chairman of the Foreign Affairs Committee meet with attendees of the autumn school organised by the Belgrade Centre for Security Policy and the German Agency for Civic Education (National Assembly Building, 14 Kralja Milana Street, Blue Salon)