National Assembly of the Republic of Serbia / Activities / Activity details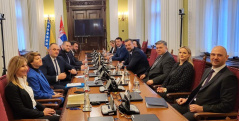 24 February 2023 National Assembly Deputy Speaker Usame Zukorlic in meeting with the Minister of Foreign Affairs of Bosnia and Herzegovina
Friday, 24 February 2023
National Assembly Deputy Speaker Usame Zukorlic Meets with Bosnia and Herzegovina Foreign Minister
National Assembly Deputy Speaker Usame Zukorlic met today, at the National Assembly House, with the Minister of Foreign Affairs of Bosnia and Herzegovina H.E. Elmedin Konakovic.
---
At the beginning of the meeting, Zukorlic stressed that the relations between the Republic of Serbia and Bosnia and Herzegovina are burdened by history, adding that the politics of his Justice and Reconciliation Party among other things, advocates reconciliation and long-term mending of relations between the two nations and two states.
"Serbia sees Bosnia and Herzegovina as its closest neighbour and a prosperous and stable partner for cooperation, which is also the policy of the state leadership," said the National Assembly Deputy Speaker.
He added that Bosnia and Herzegovina is Serbia's most important economic partner and that the economic cooperation, though very developed, still leaves room for expansion.
The Minister of Foreign Affairs of Bosnia and Herzegovina Elmedin Konakovic pointed out the priority of the country's foreign policy is stability of the region and development and improvement of good neighbourly relations. He informed the hosts that he had successful meetings with the leadership of Serbia where they discussed the regulation of the interstate border, infrastructure projects, among them the energy project that is of common interest to both countries.
He briefed his hosts on his country's foreign policy and talked about the problem they are facing, saying that Bosnia and Herzegovina is among the leading countries in the world in terms of people leaving.
They talked about the Bosniak national community, and Zukorlic thanked H.E. Konakovic for his interest in the position of Bosniaks in the Republic of Serbia.
The meeting was attended by Milimir Vujadinovic, Head of the Parliamentary Friendship Group with Bosnia and Herzegovina and MP Zaim Redzepovic, who jointly assessed that the two countries share the same culture and language and that there is room for future cooperation. It was pointed out that the Parliamentary Friendship Group with Bosnia and Herzegovina is one of the largest in the Parliament, with its 92 members.
Vujadinovic stated that Serbia has recorded significant economic and political progress in recent years, which, according to him, should also be reflected in Bosnia and Herzegovina. He pointed out the importance of the "Open Balkans" initiative, which is a step toward a European quality of life and contributes to better economic cooperation of the entire region.
At the end of the meeting, the officials agreed that there is room to intensify cooperation in all areas and expressed hope that and exchange of parliamentarian visits would be organised soon.
---
---
monday, 11 december
10.00 - Deputy Chairperson of the Committee on Human and Minority Rights and Gender Equality Natasa Tasic Knezevic speaks at the conference Business and Human Rights (National Assembly House, 13 Nikola Pasic Square, Small Hall)

10.00 - the PFG with Israel meets with the representatives of the Israeli Embassy in Serbia (National Assembly House, 13 Nikola Pasic Square, library)

14.30 - press conference of MP Aleksandar Jerkovic (National Assembly House, 13 Nikola Pasic Square, Central Hall)