National Assembly of the Republic of Serbia / Activities / Activity details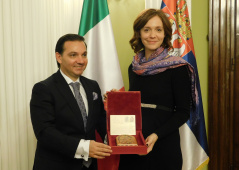 29 November 2018 National Assembly Deputy Speaker Prof. Dr Vladimir Marinkovic and the President of the Committee on Foreign and European Community Affairs of the Italian Chamber of Deputies Marta Grande
Thursday, 29 November 2018
National Assembly Deputy Speaker Prof. Dr Vladimir Marinkovic Meets with Italian Chamber of Deputies Committee on Foreign and European Community Affairs Delegation
National Assembly Deputy Speaker Prof. Dr Vladimir Marinkovic received a delegation of the Committee on Foreign and European Community Affairs of the Italian Chamber of Deputies in official visit to the Republic of Serbia, at the National Assembly today.
---
Deputy Speaker Marinkovic opined that the relations between Serbia and Italy are stable stressing that next year marks the 140th anniversary of diplomatic relations and the 10th anniversary of the strategic partnership between the two states. He said that the extensive political relations notwithstanding, there is room to advance interparliamentary cooperation at the level of working bodies, parliamentary friendship groups and within international parliamentary organizations.
Prof. Dr Vladimir Marinkovic thanked Italy for its continued support of Serbia's European integration stressing that it is Serbia's foreign policy priority and hoping that three additional negotiation chapters would be opened before the end of the year. The National Assembly Deputy Speaker said that Serbia has great expectations of the Austrian presidency of the EU Council as enlargement to the Western Balkans is one of its priorities. Serbia is also committed to regional cooperation and peace and stability in the region, stressed Marinkovic in his conversation with the Italian delegation.
Speaking of the situation in Kosovo-Metohija, Deputy Speaker Marinkovic said that Serbia is dedicated to finding a peaceful solution through dialogue and application of the Brussels Agreement. On the other hand, Pristina did not fulfil any of the obligations it had assumed under the Agreement, said Marinkovic adding that Serbia insists on the establishment of a Community of Serb Municipalities, the key aspect of the Brussels Agreement. He expressed his concern over Pristina's 100% customs tariff hike on goods from other parts of Serbia.
The President of the Committee on Foreign and European Community Affairs of the Italian Chamber of Deputies Marta Grande said that for Italy and the whole of Europe Serbia is the key to the stability of the Western Balkan region. Grande commended Serbia's progress in the European integration process adding that Italy respects the reforms the country is conducting on the path to EU accession. She agreed with the National Assembly Deputy Speaker on the importance of advancing interparliamentary cooperation.
The members of the Italian delegation praised Serbia's peaceful and composed reaction to Pristina's decision to raise taxes on Serbian products in Kosovo-Metohija. They stressed that Italy would continue to support and assist in the preservation of Serbian churches and monasteries in Kosovo-Metohija.


---
---
thursday, 9 april
13.00 - press conference of MPs Sasa Radulovic, Branka Stamenkovic and Vojin Biljic (National Assembly House, 13 Nikola Pasic Square, Central Hall)