National Assembly of the Republic of Serbia / Activities / Activity details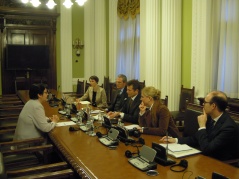 10 April 2012 National Assembly Deputy Speaker Gordana Comic talks to the Austrian Foreign Ministry State Secretary Wolfgang Waldner
Tuesday, 10 April 2012
National Assembly Deputy Speaker Gordana Comic Talks to Austrian Foreign Ministry State Secretary Wolfgang Waldner
Today, at the National Assembly House, National Assembly Deputy Speaker Gordana Comic met with the State Secretary at the Ministry of Foreign Affairs of the Republic of Austria Wolfgang Waldner to discuss the two countries' cooperation, the situation in Serbia and Serbia's progress on the road to European integration.
---
The officials declared the relations between Austria and Serbia excellent, adding that the two countries enjoy successful political and economic cooperation.
Gordana Comic was particularly grateful for the support Austria extends to Serbia in its progress to the EU and its investments into the Serbian economy.
The meeting was attended by the Ambassador of the Republic of Austria to Serbia Clemens Koja.

---
---
wednesday, 23 september
No announcements for selected date