National Assembly of the Republic of Serbia / Activities / Activity details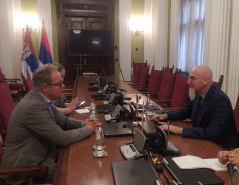 31 August 2022 National Assembly Deputy Speaker Dr Zoran Lutovac in meeting with the Italian Ambassador to Serbia
Wednesday, 31 August 2022
National Assembly Deputy Speaker Dr Zoran Lutovac Meets with Italian Ambassador to Serbia
National Assembly Deputy Speaker Dr Zoran Lutovac met today with the Ambassador of the Republic of Italy to the Republic of Serbia, H.E. Luca Gori to discuss the priorities of his work in the current National Assembly legislature, as well as the current political situation in Serbia.
---
Dr Zoran Lutovac stressed that it is important to restore citizens' trust in the Parliament, as well as its role as a key political institution in the country. The National Assembly should pass laws that are in the public interest, as well as fulfil its control role, he said, adding that it is also very important to raise significant social questions in the Parliament.
In this regard, Lutovac pointed out that the Democratic Party Parliamentary Group has submitted initiatives for the formation of five inquiry committees and also announced that it would also be submitting a number of bills of great interest for the citizens of Serbia.
The National Assembly Deputy Speaker believes that the state should pursue a clear pro-European policy and that the EU should support the democratic processes in Serbia.
Ambassador Luca Gori stressed that Italy strongly and transparently supports Serbia's European integration, as well as that the EU enlargement dynamics should be faster.
The meeting also touched on the situation in Kosovo-Metohija, the challenges of the energy crisis, as well as respecting human rights and the organisation of EuroPride in Serbia.
---
---
wednesday, 4 october
9.00 - sitting of the Committee on Finance, State Budget and Control of Public Spending (National Assembly House, 13 Nikola Pasic Square, hall 2)

10.00 - the National Assembly Speaker meets with the Chinese Ambassador to Serbia (National Assembly House, 13 Nikola Pasic Square, hall 1)

12.00 - sitting of the Culture and Information Committee (National Assembly House, 13 Nikola Pasic Square, hall 4)