National Assembly of the Republic of Serbia / Activities / Activity details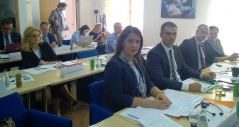 29 September 2017 Participants of the interparliamentary conference
Friday, 29 September 2017
National Assembly Delegation at Interparliamentary Conference on Independent and Modern Public Administration in EU Enlargement Countries
National Assembly delegation comprising members of the European Integration Committee and the Committee on the Judiciary, Public Administration and Local Self-Government Dusica Stojkovic, Gordana Comic, Zarko Micin and Nedjo Jovanovic, took part in the interparliamentary conference on Independent and Modern Public Administration in the EU Enlargement Countries.
---
The conference was held at the Regional School of Public Administration in Danilovgrad on 28 and 29 September 2017, and was co-organized by the European and Montenegrin parliaments. The Conference was attended by delegations from the Western Balkans and Turkey, MEPs and European Commission experts and was dedicated to EU administration principles and standards, depoliticization and professionalization of public administration, measurability and control of public administration, anti-corruption strategies and development of e-administration.

In her address, Dusica Stojkovic said that the Serbian Government's public administration reform has yielded a number of positive effects for the citizens and the economy as evidenced by the relevant international reports, for example the 12 work days previously needed to set up a company have now been reduced to eight and the Government had adopted an Action Plan for the implementation of the Public Administration Reform Strategy. The need for an independent and modern public administration has been recognized since the EU acquis is being harmonized at the national and mainly implemented at the local level. This is important for attracting foreign investors and economic growth, and in that sense it is very important that the Serbian Government is implementing public administration reform following the 2014 Strategy. All the administrative procedures in local administrations are standardized, simplified, and options how to cutting the time required and costs for administrative procedures are reassessed. Introduction of e-administration is also being considered. The Bill on National Academy for Public Administration, and the Bill amending and modifying the Law on Civil Servants which are expected to substantially improve public administration are on the agenda for the coming autumn session.
Gordana Comic highlighted the importance of getting the political parties involved in the issue of public administration.
Nedjo Jovanovic underlined the importance of transparency in the work of all the state institutions across the board.
Speaking of the need to professionalize public administration, Zarko Micin stressed that the public administration reform strategy implemented in Serbia since 2014 viz. the rationalization of public administration has resulted in significant budget savings. The government passed a temporary ban on employment in the public sector and rules concerning public calls, while the coming period will see more intensive efforts on the professionalization of public administration following the highest international standards in the field.
The participants of the conference agreed that the parliaments of the Western Balkans and Turkey should be more involved in the public administration reform processes in their respective countries since an efficient public administration is one of the three chief EU accession criteria (in addition to political stability and economic criteria).


---
---
friday, 28 january
13.00 - meeting of the Inter-Party Dialogue Control Body (National Assembly House, 13 Nikola Pasic Square, hall 1)

17.00 - National Assembly Speaker Ivica Dacic meets with Inter-Party Dialogue co-facilitators (National Assembly House, 13 Nikola Pasic Square, hall 1)