National Assembly of the Republic of Serbia / Activities / Activity details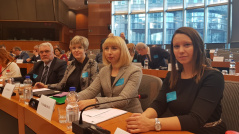 30 January 2019 The participants of the interparliamentary conference
Wednesday, 30 January 2019
National Assembly Delegation at Interparliamentary Conference - Communication with Citizens: How to Develop a Comprehensive Communication Strategy of a Parliament
The European Parliament is organizing an interparliamentary conference on 29 January 2019 in Brussels with the topic "Communication with citizens: How to develop a comprehensive communication strategy of a parliament".
---
The National Assembly delegation attending the event comprises Culture and Information Committee Chairman Mirko Krlic, European Integration Committee Deputy Chairperson the Elvira Kovacs, European Integration Committee member Vesna Markovic and Culture and Information Committee member Ana Stevanovic.
The participants of the conference are discussing how can a parliament communicate with the public and fight so-called fake news, the communication between the European Parliament and the citizens, media and journalists, as well as the EP communication strategy for the coming EP elections in May 2019.
Speaking of the National Assembly's openness, Elvira Kovacs said that the Parliament cooperates with the civil society among other things by inviting CS representatives to committee sittings. The civil sector also takes active part in the EU accession talks via the National Convention on the EU which has was declared by a recent National Assembly Resolution the chief consulting body involved in the discussion on the negotiation position proposals.
All the National Assembly sessions are also available in real-time on the National Assembly web page.
She also spoke about the constituent offices based in local units as a best practice example.
Elvira Kovacs went on to say that the Hungarian national minority in Serbia will for the first time be able to vote in the EP election in May of this year. EP's recommendations contained in the strategy currently being drafted are especially important in that sense.
Representatives of Ukraine and Georgia also took part in the conference.
The interparliamentary conference is held under the auspices of the European Parliament's 2019 support programme for the parliaments of the Western Balkans and Turkey, with the participation of members of the European Parliament and representatives of the European Commission.


---
---
| M | T | W | T | F | S | S |
| --- | --- | --- | --- | --- | --- | --- |
| 26 | 27 | 28 | 29 | 30 | 31 | 1 |
| 2 | 3 | 4 | 5 | 6 | 7 | 8 |
| 9 | 10 | 11 | 12 | 13 | 14 | 15 |
| 16 | 17 | 18 | 19 | 20 | 21 | 22 |
| 23 | 24 | 25 | 26 | 27 | 28 | 29 |
| 30 | 31 | 1 | 2 | 3 | 4 | 5 |
wednesday, 4 august
No announcements for selected date