National Assembly of the Republic of Serbia / Activities / Activity details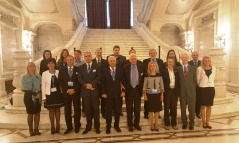 28 September 2016 Participants of the interparliamentary workshop "European parliamentarians fighting modern slavery"
Thursday, 29 September 2016
National Assembly Delegation Takes Part in Interparliamentary Workshop "European Parliamentarians Fighting Modern Slavery"
The Chairman of the Committee on Human and Minority Rights and Gender Equality Meho Omerovic, Chairperson of the Committee on Labour, Social Issues, Social Inclusion and Poverty Reduction Vesna Rakonjac, and Committee member Milanka Jevtovic Vukojicic took part in the interparliamentary workshop "European parliamentarians fighting modern slavery", in Bucharest, 27-28 September 2016.
---
The workshop was organised by the Romanian Parliamentary Group on human trafficking and the Human Trafficking Foundation from the UK.

The objective of the workshop was a more comprehensive and effective fight against human trafficking through the cooperation between the MPs from Hungary, Moldova, Ukraine, Bulgaria, Italy and Serbia. The workshop especially focused on analysing the possibility of setting up a special parliamentary body for human trafficking issues.

In his address, Meho Omerovic informed the participants about Serbia's continued activities on combating human trafficking and outlined the legislative and institutional framework for the prevention of and sanctions against this crime. He spoke of the specialisation and training of public prosecutors and police officers and their ongoing cooperation with other state bodies and NGOs.

Saying that everybody can be the victim of human trafficking: women, men and children, Vesna Rakonjac stated that the structure of human trafficking victims in Serbia has been changing from sexual exploitation to labour exploitation. Since the potential victims are mainly recruited in their own communities, she believes it essential to strengthen institutions at the local level. Children are, of course, the most vulnerable victim category. That is why high-risk families should be bolstered and all the capacities for the prevention of kidnapping, sale and trafficking in children need to be improved. The Committee Chairperson also highlighted the human trafficking problem from the aspect of the migrant crisis where unaccompanied minors are given special attention. The members of this risky group in three centres in Serbia receive all necessary expert assistance, from translators to legal and psycho-social assistance, and work has been done on reconnecting families.

Milanka Jevtovic Vukojicic said that human trafficking is designated as a crime against humanity in Serbia's criminal law and is one of the most profitable criminal acts. That is why combating it calls for a multidisciplinary approach as well as good regional and international cooperation. She said that the institute of protected witness entered Serbia's criminal law in 2013, which is very important from the aspect of protecting the victims of human trafficking. She said that Serbia has a Centre for Human Trafficking Victims Protection, which has housing areas at its disposal, secured from assets seized as proceeds from crime. She said that, to protect and improve the position of human trafficking victims, the Republic Public Prosecutor's Office has set up an information service for injured parties and/or witnesses and as a result of good cooperation with the civil sector it had signed a protocol of cooperation with NGOs against human trafficking.


---
---