National Assembly of the Republic of Serbia / Activities / Activity details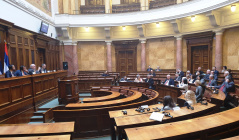 20 February 2019 The members of the PFG with Venezuela and the Foreign Affairs Committee meet with the Venezuelan Deputy Minister of Foreign Affairs
Wednesday, 20 February 2019
Members of Parliamentary Friendship Group with Venezuela and Foreign Affairs Committee Meet with Venezuelan Deputy Minister of Foreign Affairs
The members of the Parliamentary Friendship Group with Venezuela and the Foreign Affairs Committee met today with a Venezuelan delegation headed by Deputy Minister of Foreign Affairs Ivan Gil, in official visit to Serbia.
---
Ivan Gil asked for Serbia's support for the basic tenets of international law and dialogue with the political forces trying to illegitimately topple the government in Venezuela. The Venezuelan Deputy Minister of Foreign Affairs said that Venezuela will continue to support the dialogue between Belgrade and Pristina and stand by its principled stance on the self-declared Republic of Kosovo, the he said unconstitutional state which was among the first to recognize the self-proclaimed President of Venezuela. He also said that no legitimate body declared a humanitarian crisis in Venezuela as some countries claim trying to interfere in the internal matters of the Bolivarian Republic of Venezuela. The Deputy Minister thanked Serbia for its support of the state's sovereignty. He restated that the Venezuelan Government is for dialogue as the only way to reach a lasting sustainable solution.
PFG Head Djordje Komlenski said that Serbia will continue to support Venezuela, social justice and international law and is all in favour of resolving disputes peacefully, through dialogue. He also thanked Venezuela for its long-standing support of Serbia in the matter of Kosovo-Metohija.

The officials agreed that the two countries share a similar history and long-standing friendship marked by mutual support on the international scene. They also spoke about the economic cooperation which they agreed could be better.
MPs not members of the PFG with Venezuela or the Foreign Affairs Committee also showed their support, feeling the need to have their say on upholding the basic tenets of international law.


---
---
friday, 5 june
13.00 - press conference of MPs Sasa Radulovic, Branka Stamenkovic and Vojin Biljic (National Assembly House, 13 Nikola Pasic Square, Central Hall)