National Assembly of the Republic of Serbia / Activities / Activity details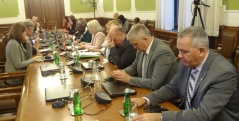 16 December 2015 The members of the Parliamentary Friendship Group with Switzerland in meeting with the Swiss Ambassador to Serbia
Wednesday, 16 December 2015
Members of Parliamentary Friendship Group with Switzerland Talk to Swiss Ambassador to Serbia
The Head and members of the Parliamentary Friendship Group with Switzerland met today, 16 December 2015, at the National Assembly House, with the Swiss Ambassador to Serbia, H.E. Jean-Daniel Ruch.
---
Opening the meeting, the Head of the Parliamentary Friendship Group with Switzerland, Jasmina Obradovic said that Serbia and Switzerland enjoy excellent parliamentary cooperation. Obradovic also spoke about their multilateral and bilateral relations characterised by a wide spectrum of bilateral agreements in many spheres, which encourage the development of mutual cooperation.

The PFG Head stressed that the consecutive chairmanship of the Organization for Security and Co-operation in Europe (OSCE) by Switzerland and Serbia in 2014 and 2015 respectively furthered overall political relations and bilateral cooperation and at the same time allowed the two states to join efforts and contribute to stability and security in Europe.

Obradovic also stressed that Serbia values Switzerland's general support in the strengthening of the rule of law and democracy, economic development, education and improvement of energy efficiency.

"As an EU candidate, the Republic of Serbia finds Switzerland's experience in the application of European standards and acquis very important, as well as the support the country provides Serbia on its way to full EU membership", concluded Obradovic, also thanking Switzerland for its help during the May 2014 floods.

Greeting the PFG members, Ambassador Jean-Daniel Ruch said that the Serbian and Swiss people share a deep connection evidenced in Switzerland's hundred-year presence in Serbia and the large Serbian community in Switzerland, which helped foster the close ties between the two people.

"When I came to Serbia I set myself two goals – to boost economic cooperation and provide the Swiss people with a more realistic picture of Serbia, and I am glad to say that both goals have been met with considerable success", said the Ambassador.

Ruch also spoke about the bilateral relations which he described a dynamic, varied and well-developed with a potential for further development, and about the potential hiding in trade relations which should also be improved.

He informed the PFG members about the possible introduction of a dual education system in Serbia modelled after the Swiss education system, which he said is the backbone of Switzerland's economic success.

On the occasion, the Ambassador also said that Switzerland is dedicated to providing support to Serbia's path to European integration and remains focused on making sure that Serbia maintains macroeconomic stability and improves the competitiveness of its business environment.

In addition to the Head of the PFG with Switzerland, Jasmina Obradovic, the meeting was also attended by PFG members MA Dejan Radenkovic, Dubravka Filipovski, Ljiljana Malusic, Milos Tosanic, Vlado Babic, Zoran Bojanic, Branislav Blazic, Milan Novakovic, Dalibor Radicevic, Aleksandra Maletic, Ninoslav Giric, Aida Corovic, Sabina Dazdarevic and Branka Bosnjak.


---
---
monday, 17 january
9.00 - the members of the PFG with Russia meet with Russian senators (National Assembly House, 13 Nikola Pasic Square, hall 2)