National Assembly of the Republic of Serbia / Activities / Activity details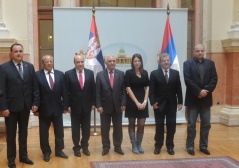 17 March 2014 The members of the Parliamentary Friendship Group with Azerbaijan with the Azerbaijani parliamentary delegation which observed the parliamentary elections in Serbia
Tuesday, 18 March 2014
Members of Parliamentary Friendship Group with Azerbaijan Talk to Azerbaijani Parliamentary Delegation which Observed the Parliamentary Elections in Serbia
Azerbaijani MPs Eldar Ibrahimov and Astan Shahvardiyev congratulated on the successfully conducted parliamentary elections highlighting the brotherly relations between Serbia and Azerbaijan.
---
Welcoming the guests on the behalf of the Parliamentary Friendship Group, Group Head Irena Vujovic thanked her Azerbaijani colleagues for their participation in the election process. She said that the election campaign was short and free of incidents, reminding how she herself and some other National Assembly MPs observed the presidential elections in Baku in October 2013 where they were very warmly received.
The Ambassador of the Republic of Azerbaijan to Serbia, H.E. Eldar Hasanov thanked the hosts for meeting with the delegation a mere day after the elections. He stressed that the heartfelt reception was yet one more proof of the traditionally good relations between Serbia and Azerbaijan.
Mentioning that the 22-member Parliamentary Friendship Group with Azerbaijan is among the largest ones in the National Assembly, Vujovic announced that the new assembly legislature, which she would be a member of as well, would continue to intensify parliamentary cooperation. The priorities set in the previous mandate such as attracting new investments and cooperation in the fields of infrastructure and agriculture should be conducted as primary goals by the new legislature. In previous years, the Republic of Azerbaijan had fully assisted Serbia in pursuit of these goals, stressed Vujovic.
In light of the conversation, MP Dragomir Karic underlined the long-standing economic cooperation and friendly relations with Azerbaijan, adding that they need to be expanded to include economy, culture, sport and new technologies. Parliamentary Friendship Group member MP Dragan Sormaz said that he would remain member of the Parliamentary Friendship Group with Azerbaijan in the new legislature and develop new parliamentary and economic cooperation potentials with Azerbaijan.
Azerbaijani MPs Eldar Ibrahimov congratulated his hosts on the election results and well-organised election process. He underlined that Azerbaijani investments stem from the almost brotherly relations between Serbia and Azerbaijan, evidenced by the exceptionally good relations between presidents Nikolic and Aliyev and the recent visit of the Azerbaijani ministers of defence and economy to the Republic of Serbia. Joining the congratulations on the election results and regularity of the election process, MP Astan Shahvardiyev said that the Azerbaijani delegation visited 23 polling stations where the elections were conducted in an orderly fashion. Shahvardiyev has been member of the Parliamentary Friendship Group with Serbia for eight years.
The officials concluded that the new legislature should deepen parliamentary cooperation and expand it to include other National Assembly committees, first of all the committees in charge of agricultural, infrastructural and energy matters. The results of the parliamentary elections should contribute to the country's political stability which would definitely prove conducive to attracting new investments.
MP Zoran Babic who wished his Azerbaijani colleagues a pleasant stay in Serbia also joined the meeting.

---
---
| M | T | W | T | F | S | S |
| --- | --- | --- | --- | --- | --- | --- |
| 27 | 28 | 29 | 30 | 31 | 1 | 2 |
| 3 | 4 | 5 | 6 | 7 | 8 | 9 |
| 10 | 11 | 12 | 13 | 14 | 15 | 16 |
| 17 | 18 | 19 | 20 | 21 | 22 | 23 |
| 24 | 25 | 26 | 27 | 28 | 29 | 30 |
| 31 | 1 | 2 | 3 | 4 | 5 | 6 |
friday, 7 august
No announcements for selected date