National Assembly of the Republic of Serbia / Activities / Activity details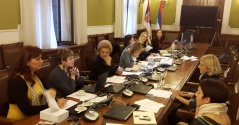 7 December 2015 Meeting of the Women's Parliamentary Network coordinators
Monday, 7 December 2015
Meeting of Women's Parliamentary Network Coordinators
The coordinators of the Women's Parliamentary Network met on 7 December at the National Assembly House, to discuss the proposed amendments to the Bill amending and modifying the Budget System Law concerning gender responsive budgeting.
---
On the behalf of the OSCE Mission to Serbia the meeting was attended by Aleksandra Vladisavljevic and Natasa Sakota.
Besides the chair of the Women's Parliamentary Network Vera Paunovic, the meeting was also attended by coordinators Marija Obradovic, Dubravka Filipovski, Prof. Dr Aleksandra Tomic, Stefana Miladinovic, Elvira Kovacs and Sabina Dazdarevic.
---
---
wednesday, 8 july
13.00 - press conference of MPs Sasa Radulovic, Branka Stamenkovic and Vojin Biljic (National Assembly House, 13 Nikola Pasic Square, Central Hall)

13.45 - press conference of MP Prof. Dr Miladin Sevarlic (National Assembly House, 13 Nikola Pasic Square, Central Hall)

14.20 - press conference of MP Djordje Vukadinovic (National Assembly House, 13 Nikola Pasic Square, Central Hall)