National Assembly of the Republic of Serbia / Activities / Activity details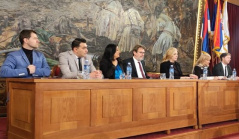 8 April 2023 Participants of the gathering
Saturday, 8 April 2023
MPs Natasa Tasic Knezevic and Vesna Nedovic at Celebration of International Roma Day in Sombor
Representatives of the Committee on Human and Minority Rights and Gender Equality Natasa Tasic Knezevic and Vesna Nedovic took part in the celebration of International Roma Day in Sombor on 8 April 2023, at the invitation of the Ministry of Human and Minority Rights and Social Dialogue.
---
On the occasion, Committee Deputy Chairperson Natasa Tasic Knezevic highlighted the need to advance inclusive policies for Roma, reminding the attending that the state allocates significant funds for the work of institutions of importance for the Roma national minority, as well as projects affirming the culture and education of the Roma national minority and information in the Roma language. In February 2022, the National Assembly adopted the Law on Social Entrepreneurship aimed, among other things, toward the work engagement of Roma and other sensitive groups and individuals. She also reminded the attending that the social inclusion of Roma is an important issue for all countries striving to join the European Union and the goals envisioned by the Poznan Declaration on Roma Integration. However, Roma are still exposed to numerous problems which we as a society need to combat, such as prejudice, discrimination and hate speech.
In the course of the day, the participants held an interactive topical dialogue on hate speech and discrimination and were presented the cultural achievements of Roma men and women. In addition to the organiser, the Ministry of Human and Minority Rights and Social Dialogue, the event was attended by representatives of the Ministry of Culture, City of Sombor, bodies of the Autonomous Province of Vojvodina, National Council of the Roma National Minority, UNDP and others.
---
---
saturday, 9 december
No announcements for selected date