National Assembly of the Republic of Serbia / Activities / Activity details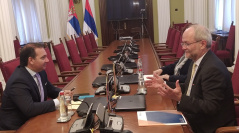 17 June 2022 MP Prof. Dr Vladimir Marinkovic and Bundestag member Volkmar Klein
Friday, 17 June 2022
MP Prof. Dr Vladimir Marinkovic Meets with Bundestag Member
MP Prof. Dr Vladimir Marinkovic met today in the National Assembly with the federal deputy of the CDU/CSU Parliamentary Group Volkmar Klein, currently in a one-day visit to Belgrade. He is the rapporteur of the parliamentary group for economic development and cooperation and the deputy chair of the German-Pacific Parliamentary Group.
---
Prof. Dr Vladimir Marinkovic expressed satisfaction that the relations and ties between Serbia and Germany are constantly strengthening, stressing that there is intensive cooperation at the highest political level as well as in the field of economy, bearing in mind that over 75,000 of our citizens are employed in German companies operating in Serbia. "We are grateful for the trust in our country and the large number of investments," he said, adding that it is important to maintain this dynamic communication between Serbia and Germany, especially in the specific circumstances Europe finds itself in. He emphasised that membership in the European Union is Serbia's chief foreign policy priority and strategic goal.
IN the course of the meeting, Prof. Dr Vladimir Marinkovic also spoke about the dialogue between Belgrade and Pristina, stressing that Serbia is committed to dialogue and finding a compromise, sustainable solution. He expressed concern over the behaviour of the provisional institutions in Pristina and their refusal to implement the Brussels and Washington agreements.
Speaking about the importance of regional cooperation, Marinkovic emphasized the importance of the Open Balkan initiative, which is a good platform for stabilising the region, economic cooperation and reconciliation. He pointed out that this initiative is an important precondition for achieving long-term cooperation in the Western Balkans and expressed regret that Pristina refuses to participate in this regional initiative. At the same time, the relations between Serbia and Albania have never been at a better level and the countries have achieved a high degree of mutual understanding precisely as a result of participation in the Open Balkan initiative, said Marinkovic.
Bundestag MP Volkmar Klein agreed that cooperation between the countries of the Western Balkans is extremely important, saying that both bilateral cooperation between the candidate countries and EU members and mutual cooperation between the Western Balkan countries are important in the European integration process. The Open Balkan initiative is of great importance in that sense and is closely connected with the Berlin process, he concluded.
---
---
| M | T | W | T | F | S | S |
| --- | --- | --- | --- | --- | --- | --- |
| 27 | 28 | 29 | 30 | 1 | 2 | 3 |
| 4 | 5 | 6 | 7 | 8 | 9 | 10 |
| 11 | 12 | 13 | 14 | 15 | 16 | 17 |
| 18 | 19 | 20 | 21 | 22 | 23 | 24 |
| 25 | 26 | 27 | 28 | 29 | 30 | 31 |
friday, 1 december
No announcements for selected date