National Assembly of the Republic of Serbia / Activities / Activity details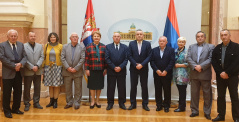 6 November 2019 Participants of the meeting
Wednesday, 6 November 2019
MP Miodrag Linta Talks to Group of Citizens from Sombor Area
MP Miodrag Linta received a group of citizens from the Sombor area at the National Assembly to discuss the initiative to open a small border crossing Stanisic (Serbia) – Katymár (Hungary).
---
Civic representatives Vlade Ogar, Petar Mojzes and Dr Veselina Pelagic briefed Miodrag Linta on the local community of Stanisic and Hungarian municipality of Katymár's 2018 initiative to open Stanisic-Katymár border crossing. These two local self-governments had signed a cooperation agreement in 2017 covering institutional cooperation and cooperation between associations and business entities in Stanisic and Katymár. The agreement opened the doors to the initiative to open a border crossing, they said. The local community of Stanisic submitted the decision to the City of Sombor which should have forwarded it on to the relevant Ministry of the Interior, but that did not happen and the realization of project border crossing was halted.
Miodrag Linta agreed that the realization of this project is very important because opening a border crossing and with it a direct channel with Central Europe and the European Union would revive the local communities in the Serbian border area (Stanisic, Kljajicevo and Conoplja) which would motivate young people to stay in these areas.
The host and guests agreed that it is essential to contact the authorities of the City of Sombor in the coming period and continue the necessary procedures and MP Linta said that he would do all in his power to help a speedier realization of project border crossing Stanisic (Serbia) – Katymár (Hungary).
---
---
wednesday, 23 june
9.00 - sitting of the Committee on Education, Science, Technological Development and the Information Society (National Assembly House, 13 Nikola Pasic Square, hall 3)

9.00 - sitting of the Agriculture, Forestry and Water Management Committee (National Assembly House, 13 Nikola Pasic Square, hall 4)

9.30 - sitting of the Defence and Internal Affairs Committee (National Assembly House, 13 Nikola Pasic Square, hall 2)

10.00 - Sixth Extraordinary Session of the National Assembly of the Republic of Serbia, 12th Legislature (National Assembly House, 13 Nikola Pasic Square)

11.00 - meeting of the Parliamentary Digital Security Network (National Assembly House, 13 Nikola Pasic Square, hall 2)

14.00 - the PFG with Malaysia meets with the Head of Mission of the Malaysian Embassy in Serbia (National Assembly House, 13 Nikola Pasic Square, hall 4)