National Assembly of the Republic of Serbia / Activities / Activity details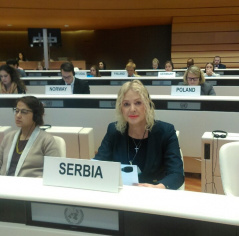 23 November 2018 MP Ljiljana Malusic at the second session of the Forum on Human Rights, Democracy and the Rule of Law
Monday, 26 November 2018
MP Ljiljana Malusic at Forum on Human Rights, Democracy and the Rule of Law Second Session on "Parliaments as Promoters of Human Rights, Democracy and the Rule of Law"
At the invitation of the Inter-Parliamentary Union, MP Ljiljana Malusic, member of the Committee on Human and Minority Rights and Gender Equality, took part in the second session of the Forum on Human Rights, Democracy and the Rule of Law on "Parliaments as promoters of human rights, democracy and the rule of law", organized by the Office of the United Nations High Commissioner for Human Rights (OHCHR) in Geneva, 22-23 November 2018.
---
The second session focused on the parliament's key role in promoting human rights, democracy and the rule of law. The participants discussed the existing and potential challenges for the parliaments and how best to tackle them, as well as how to promote cooperation between the United Nations and the parliaments.
Ljiljana Malusic briefed the participants of the Forum on the improvement of the human rights-related legislative framework in the Republic of Serbia, especially the regulations protecting the rights of national minorities, concerning asylum and temporary protection, personal data protection, free legal aid, prevention of domestic violence, also highlighting the National Assembly's activities on advancing gender equality on all the levels of decision making.
As regards the parliament's tackling of global human rights challenges she spoke about the migrant crisis and Serbia's pro-active approach and efforts to meet all the standards of protection. In the last session – increasing the parliaments' engagement with international human rights mechanisms, she said that the Serbian Government had recognized the importance of the UN human rights monitoring mechanism and set up the Governmental Council for Monitoring the Implementation of the Recommendations of the United Nations Human Rights Mechanism. She added that the Committee on Human and Minority Rights and Gender Equality is being thoroughly briefed on the state reports concerning the implementation of the international agreements Serbia had ratified, among them the Convention on the Elimination of all Forms of Discrimination Against Women (CEDAW), and monitors the implementation of the UN recommendations.
The Forum was wrapped up with a presentation of the concluding remarks and recommendations.


---
---
tuesday, 31 march
13.00 - press conference of MPs Sasa Radulovic, Branka Stamenkovic and Vojin Biljic (National Assembly House, 13 Nikola Pasic Square, Central Hall)