National Assembly of the Republic of Serbia / Activities / Activity details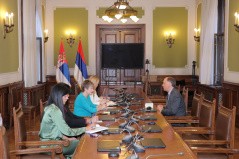 25 October 2022 Participants of the meeting
Tuesday, 25 October 2022
Kovacs Meets United Nations Belgrade Office Political Advisor
At today's meeting, the Chairperson of the European Integration Committee Elvira Kovacs and political advisor at the United Nations Belgrade Office Yevgeniy Razdorozhny opined that the intensive cooperation between the National Assembly and the UN would continue.
---
At the beginning of the meeting, Mr. Razdorozhny congratulated the Committee Chairperson on once again being elected to head the European Integration Committee, expressing interest in the further work of the Assembly and its committees included in the European integration process, as well as the mutual cooperation between the MPs in view of the 13th parliamentary legislature's pluralism.
Ms. Kovacs explained that the European Integration Committee's primary role is to help harmonise the Serbian national legislation with the European acquis. She spoke of the National Assembly's many years of good cooperation with non-governmental organisations which she believes to be a very important segment of social and political life, especially the long-standing good communication and cooperation with the National Convention on the EU. She said that the Committee meets and talks regularly with representatives of the National Convention on the EU when reviewing the proposals of the negotiation positions prepared by the Serbian Government, being the bridge of cooperation between the Convention and the Government. Kovacs also said that many of the MPs are members of multiple National Assembly committees and highlighted the constructive cooperation in the European Integration Committee.
Mr. Razdorozhny wanted to know more about the European Commission's Progress Report on Serbia for 2022, with Kovacs saying that as soon as the new Government is set up, the Committee would convene a sitting. She added that Serbia is ready to open new clusters, but the European Union needs to send a positive impulse as regards further EU accession talks because the slowing down of the process reflects proportionally on the number of citizens who support integration. She also added that Serbia should not be pressured any further because of the conflict between Ukraine and Russia and that Serbia has clearly shown that full membership in the European community is its chief foreign policy goal.
The political advisor at the United Nations Belgrade Office was also interested in the Belgrade-Pristina dialogue process, with Kovacs stating that the frozen conflict is not a solution, but that Serbia cannot be asked to recognise independent Kosovo, adding that the dialogue with Pristina must be continued.
The officials also discussed the "Open Balkans" initiative, Stabilisation and Association Parliamentary Committee, Parliamentary Assembly of the Council of Europe, harmonisation of the Serbia and EU visa policy for Tunisia and Burundi nationals and the Berlin Process.
---
---
| M | T | W | T | F | S | S |
| --- | --- | --- | --- | --- | --- | --- |
| 27 | 28 | 29 | 30 | 1 | 2 | 3 |
| 4 | 5 | 6 | 7 | 8 | 9 | 10 |
| 11 | 12 | 13 | 14 | 15 | 16 | 17 |
| 18 | 19 | 20 | 21 | 22 | 23 | 24 |
| 25 | 26 | 27 | 28 | 29 | 30 | 31 |
saturday, 2 december
No announcements for selected date