National Assembly of the Republic of Serbia / Activities / Activity details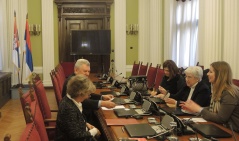 4 March 2014 Chairman of the Committee on the Judiciary, Public Administration and Local Self-Government Petar Petrovic in meeting with World Bank consultants Ellen Kelly and Marina Matic
Tuesday, 4 March 2014
Judiciary, Public Administration and Local Self-Government Committee Chairman Meets with World Bank Consultants
Petar Petrovic, Chairman of the Committee on the Judiciary, Public Administration and Local Self-Government met with Ellen Kelly and Marina Matic, World Bank consultants on the project of functional analysis of the judiciary, at their request.
---
Ms. Kelly and Ms. Matic presented the drafting concept of the functional analysis of the judiciary prepared, at the request of the Ministry of Justice and Public Administration, by a group of experts, Ellen Kelly and Marina Matic among them as World Bank consultants, stressing that the framework of the analysis includes efficiency and quality assessment of the work of courts and public prosecutors' offices, especially from the aspect of the citizens and the exercise of their rights before the judiciary bodies, as well as the contribution of the legal profession and private executors to that end. The analysis will be one of the most important elements in the opening of chapter 23 in the talks with the European Union. The draft project, launched in December 2013, should be presented by mid-April 2014 and allow insight into the situation in the judiciary in the Republic of Serbia.
Responding to the questions, Petrovic informed Ms. Kelly about the activities and role of the Committee on the Judiciary, Public Administration and Local Self-Government in the legislative process, briefly outlining the Committee's role in the legislative procedure as regulated by the National Assembly Rules of Procedure. He also briefed the experts on the role of the Committee Chairman as member of the High Judiciary Council since they were particularly interested in the reintegration into the judiciary system of the judges and public prosecutors reinstated after the Constitutional Court decision of June 2013, and the assessment of the work of judges and public prosecutors. He stressed the need to employ measures which would help resolve cases within a reasonable time and boost the efficiency of court proceedings as significant goals of the judiciary reform, which would make justice and the right to fair trials accessible to all the citizens and regain their trust in the judiciary. Hoping that the future will bring speedier progress toward the harmonisation of judiciary regulations with the European Union, Petrovic stressed that the main goal is to achieve equal treatment by the law for everyone.
One of the issues discussed was also the manner in which funds from the Republic of Serbia budget were secured for the judiciary bodies and how are they handled. To Ms. Kelly's comment that the judiciary bodies complain that they do not have any information about the budgetary funds that would be put at their disposal, the Committee Chairman said that other budget beneficiaries have the same problem since the use of the allocated funds depends primarily on the inflow of funds into the budget.

---
---
wednesday, 23 september
No announcements for selected date