National Assembly of the Republic of Serbia / Activities / Activity details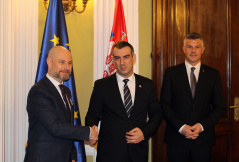 27 January 2023 The participants of the meeting
Friday, 27 January 2023
Joint Press Release: MEPs and National Assembly Speaker After Meeting in National Assembly Dr Orlic Receives Palestinian Ambassador in Fare-well Visit
During today's meeting organised within the cooperation framework between the National Assembly of the Republic of Serbia and the European Parliament, National Assembly Speaker Dr Vladimir Orlic and the Members of the European Parliament Vladimir Bilcik and Matjaz Nemec expressed their readiness to continue to cooperate in supporting the process of parliamentary dialogue, strengthening the capacity and role of the Parliament in to the European integration process, with joint mediation. They emphasised the importance of exchanging experiences and good practices between Serbian and European parliamentarians in the upcoming period.
---
"We came to Belgrade to talk to the parliament leadership and representatives of the parliamentary groups about the need to support dialogue within the National Assembly and how the engagement of the European Parliament can contribute to strengthening the role of the parliament and promoting the European culture of dialogue and consensus building. In that sense, the participation of parliamentary groups is welcome. The people's trust in the parliament is essential for resolving challenges in any democratic society," said the MEPs.
"Cooperation between the National Assembly and the European Parliament is an important element of Serbia's European integration, therefore, the National Assembly welcomes the engagement of the EP in the exchange of experiences and good practices, by providing support for parliamentary dialogue and achieving consensus, which could further strengthen the parliament in its work. In previous years, we provided the best election conditions and strengthened pluralism in the National Assembly of the Republic of Serbia, as a place committed to developing an open and inclusive dialogue," said Dr Orlic after the meeting with the members of the European Parliament.
---
Photo gallery
---
---
thursday, 30 march
11.00 - the National Assembly Speaker meets with the UN Human Rights Council Special Rapporteur for the promotion and protection of the right to freedom of opinion and expression (National Assembly House, 13 Nikola Pasic Square, hall 1)

11.30 - the Head of the PFG with Hungary meets with the Hungarian Ambassador to Serbia (National Assembly House, 13 Nikola Pasic Square, hall 2)

12.00 - sitting of the Committee on Finance, State Budget and Control of Public Spending (National Assembly House, 13 Nikola Pasic Square, hall 3)

13.00 - sitting of the Environmental Protection Committee (Municipality of Babusnica building, 1 Ratka Pavlovica)