National Assembly of the Republic of Serbia / Activities / Activity details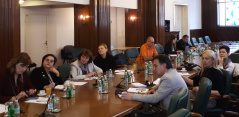 13 March 2019 The informal Green Parliamentary Group's working meeting on the impact of climate change on life in Serbia
Wednesday, 13 March 2019
Informal Green Parliamentary Group at Working Meeting on Climate Change Impact on Life in Serbia
The members of the informal Green Parliamentary Group Dubravka Filipovski, Nada Lazic, Gordana Comic, Sonja Pavlovic, Jasmina Karanac, Olena Papuga and Predrag Jelenkovic took part in the working meeting on climate change policies in Serbia and the draft law on climate change.
---
The attending were addressed by Prof. Dr Vladimir Djurdjevic of the Faculty of Physics, University of Belgrade, who presented the impact of climate change on life in Serbia.
The MPs were also briefed on Serbia's reports toward the United Nations Framework Convention on Climate Change (UNFCCC) and national contributions in the context of the Paris Agreement.
The meeting was supported by the United Nations Development Programme (UNDP) under the auspices of project "Strengthening capacities for the implementation of international environmental agreements" financed by the Global Environment Fund (GEF).


---
---
saturday, 6 june
No announcements for selected date