National Assembly of the Republic of Serbia / Activities / Activity details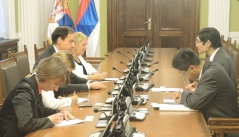 25 August 2015 The Head of the Parliamentary Friendship Group with Japan in meeting with the newly-appointed Japanese Ambassador to Serbia
Tuesday, 25 August 2015
Head of Parliamentary Friendship Group with Japan Meets with Newly-Appointed Japanese Ambassador to Serbia
The Head of the Parliamentary Friendship Group with Japan, Goran Ciric, and the newly-appointed Japanese Ambassador to Serbia, H.E. Juichi Takahara, met today, 25 August, in the National Assembly House, to discuss the future cooperation between the two countries and furthering the relationship between their respective parliaments.
---
Welcoming the newly-appointed Ambassador, Goran Ciric, the Head of the Parliamentary Friendship Group with Japan, opined that the relations between Japan and Serbia are traditionally good and, he hoped, would continue to develop in the same spirit. He said he highly valued the two nations' relationship, particularly Japan's assistance to Serbia via donations and project funding.

Ambassador Juichi Takahara declared the two countries' political relations very good, opining that the bilateral relations could profit from the promotion of PFG activities. On the occasion the Ambassador said he was glad to see that the Serbian people, despite the geographical distance, show great interest in Japan and Japanese culture.

"The Japanese Government will continue to support your country's economic and social development efforts and assist the healthcare, education, sports and other institutions in the Republic of Serbia", concluded the Japanese Ambassador during his visit to the National Assembly of the Republic of Serbia.


---
---
saturday, 19 september
No announcements for selected date